Griffiths, Linda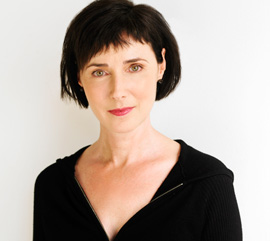 Linda Griffiths
Actor, playwright, director, born in Montreal in 1956, died on September 21, 2014 of breast cancer at the age of 60. She came to national attention in her tour-de-force solo performance in the controversial Maggie and Pierre (1979).
Linda Griffiths studied at Dawson College and the National Theatre School of Canada, and began her career soon after at the 25th Street Theatre, co-creating and performing in its collective creation, Paper Wheat, and serving briefly as its Artistic Director. In 1979 she performed in the collective creation, Les Maudits Anglais in Montreal (directed by Paul Thompson)
Much of her early work was collectively developed at Theatre Passe Muraille. She co-wrote Maggie and Pierre with Paul Thompson, and enacted the fraught relationship of Prime Minister Trudeau, his wife, Margaret, observed by a newspaper reporter, whose choric comments on the pair provide much of the humour. The play toured across Canada, and enjoyed both critical and popular success.
Since then, Griffiths performed in, wrote and co-wrote many works including: O.D. in Paradise (with Patrick Brymer, 1983, 25th Street Theatre, directed by Clarke Rogers); Jessica (with First Nations author and activist Maria Campbell, 1984, 25th Street Theatre, dir. Paul Thompson); The Darling Family (1991, Theatre Passe Muraille, directed by and starring the author and Alan Williams); A Game of Inches (with Sandra Balcovske, 1991, Passe Muraille, dir. Balcovske); Brother André's Heart (1992, Crow's Theatre, dir. Jim Millan); Spiral Women and the Dirty Theatre (1993, Passe Muraille, dir. Jennifer Dean and Balcovske); and The Duchess: a.k.a. Wallis Simpson (1998, Theatre Passe Muraille).
In 1997, she revived Maggie and Pierre at Passe Muraille. In November, 1999, she performed in her own work, Alien Creature: A Visitation From Gwendolyn MacEwen, at Passe Muraille.
Her play, Chronic, (Factory Theatre 2003, dir. Simon Heath), depicts the malais of modern life in terms of a lingering illness. The protagonist is a web designer working for a dot com firm and plagued by Chronic Fatigue Syndrome. The female body is a site for social conflict and female incapacity. As Griffiths points out, "It is the age of the virus, meaning things propagate quickly now, they can spread with the touch of a key" (Playwright's Note to published play). In the Factory Theatre production, the virus was played with comic gruesomeness by Eric Peterson.
Griffith's portrait of women activists in Victorian England, Age of Arousal, premiered at playRites 2007 (dir. Karen Hines), inspired by the novel, The Odd Women by George Gissing. In this intelligent and provocative work, she continued her exploration of the relationship between sex, politics and emotions; and examined the struggles of her "philosophical ancestors" (Program note). Like the female protagonist in Chronic, the lesbian lovers who run a secretarial school in Age of Arousal "reject a social diagnosis that dismisses them as victims of their own feminine nature" (Scott 46). However, the youngest woman in the diverse group of early feminists who populate the play expresses her emancipation by exercising her sexuality, with disastrous consequences. In 2011, play was performed in the UK (including the Royal Lyceum in Edinburgh, and the Tron in Glasgow) and in the US to highly positive reviews. Mark Fisher wrote in The Guardian: "Canadian playwright Linda Griffiths doesn't so much adapt George Gissing's The Odd Women as explode it. She takes the genteel 1890s setting of this novel about a philanthropic women's secretarial college and gives it a vigorous modern voice. Like Janet Bird's costumes, which filter the stiff formality of the Victorian bustle through a 21st-century lens, she allows the passion to poke through the prim surface of respectability. The result, in Muriel Romanes's fluid production, is funny, dynamic and politically fascinating... What the play does brilliantly is show how these first stirrings of progress were as much a result of social circumstance as of coherent ideology. Forever voicing their inner thoughts in pugnacious Howard Barker-esque asides, the characters are both subjects and instigators of social change, caught in the whirlpool of a revolution in which the place of love, eroticism, intelligence, responsibility and class has still to be defined. Like the impressionist paintings that so perplex them, the world they are helping create is strange and frightening, leading to a similarly turbulent production, both funny and fervent" (25 Feb 2011). Age of Arousal was produced by the Shaw Festival in 2010 (dir. Jackie Maxwell).
Griffiths' solo work The Last Dog of War premiered at the Antagonish Festival in August 2009, directed by Daniel MacIvor. It is a "cuttingly funny, fierce and poignant true-life tale of the trip she took with her father to his final RAF bomber squad reunion in England" (ATP website). The playwright/protagonist frankly addresses the audience about her own career, her relationship with her father, whom she calls "the old bastard," and her initial love of war -- or at least with the idea of a war with a clearly-defined conflict of good versus evil. After visiting her father's family and meeting the buddies who survived the bombing raids on Germany, she changes her mind about war, and about her father. Originally intended as an extemporaneous work, with one production, The Last Dog of War has played in several venues across the country, including Alberta Theatre Projects (Oct 2010).
Heaven Above, Heaven Below (Theatre Passe Muraille 2013, dir. Karen Hines, and starring Linda Griffiths and Layne Coleman) revisits the Darling Family twenty years later. A couple run into each other at the wedding of a mutual friend, without their respective partners. Drugs and sex ensue as they revisit their past.
Griffiths' last play, Games premiered at playRites in March 2014. The parents of a teenage son are terrifed at the prospect of his world being subsumed by his fascination with online gaming.
Griffiths was the winner of five Dora Mavor Moore Awards -- for Maggie and Pierre (1980), OD on Paradise (1983), Jessica (1986) and Alien Creature (2000); two Chalmers Awards -- for Jessica (1987) and Alien Creature (2000); a Betty Mitchell Award; and twice nominated for the Governor General's Award. In October 2013, she was awarded a Lifetime Award by the Playwrights Guild of Canada.
She also acted in film and television, and won the Los Angeles' A.G.A Award for her title performance in the John Sayles film, Lianna.
An anthology of her work, entitled Sheer Nerve: Seven Plays by Linda Griffiths, was published by Blizzard Press in 1999. Chronic was published by Playwrights Canada in 2003; Age of Arousal was published by Coach House in 2007. Maggie and Pierre & The Duchess were published by Playwrights Canada Press in 2013.
Her company, Duchess Productions, produced a unique studio class: Visceral Playwrighting. She was an Adjunct Professor in the University of Toronto's Masters Program in Creative Writing, and in 2011 received the University of Toronto Barker Fairly Visitorship.
Further Reading: Shelley Scott. "Sickness and Sexuality: Feminism and the Female Body in Age of Arousal and Chronic." Theatre Research in Canada 31.1 (2010): 37-56.
Profile by Anne Nothof, Athabasca University
Last updated 2020-07-17