Siminovitch Prize in Theatre
The Elinore & Lou Siminovitch Prize in Theatre, the largest prize of its kind in Canada, honours a professional director, playwright or designer in mid-career who, through a body of work, has made a significant contribution to theatre in Canada.
The Siminovitch Prize is named after one of Canada's outstanding scientists and his late playwright wife whose determination, dedication to excellence and belief in mentorship is embodied in the award named after them.
BMO Financial Group sponsored the $100,000 prize, which is awarded annually by a jury of distinguished members of the Canadian theatre community. The Prize is designed to showcase and reward excellence and inspire further exploration in Canadian theatre. Direction, playwriting and design are recognized in three-year cycles, beginning with the 2001 award to director Daniel Brooks. The 2002 award went to playwright Carole Fréchette; the 2003 award to designer Louise Campeau; the 2004 award to director Jillian Keiley: the 2005 award to playwright John Mighton; the 2006 award to designer Dany Lyne; in 2007 to director Brigitte Haentjens; in 2008 to playwright Daniel MacIvor; in 2009 to marionette artist Ronnie Burkett for design; in 2010 to Kim Collier for direction; in 2011 to playwright Joan MacLeod; in 2012 to designer Robert Thomson; in 2013 to director Chris Abraham; in 2014 to playwright Olivier Choinière; in 2015 to designer Anick La Bissonnière; in 2016 to director Nadia Ross; in 2017 to playwright Marcus Youssef. Stéphanie Jasmin was awarded the prize for design in 2018. Maiko Yamamoto and James Long, co-founders of Theatre Replacement were awarded the prize for directing in 2019. Tara Beagan received the award for playwriting in 2020.
The honoured artist (primary award recipient) receives an immediate cash award of $75,000. In addition, the artist is invited to designate $25,000 to a protégé of his or her choice who is involved in direction, playwriting or design in theatre in Canada, or to an institution (theatre or educational facility) that contributes to Canadian theatre. At the discretion of the primary prize recipient, the secondary prize may be split between no more than two protégés and/or institutions.
Nominations are welcome for professional directors, playwrights or designers who, in the preceding ten years, have made a significant creative contribution to no fewer than three noteworthy theatre projects in Canada (two in the case of playwrights).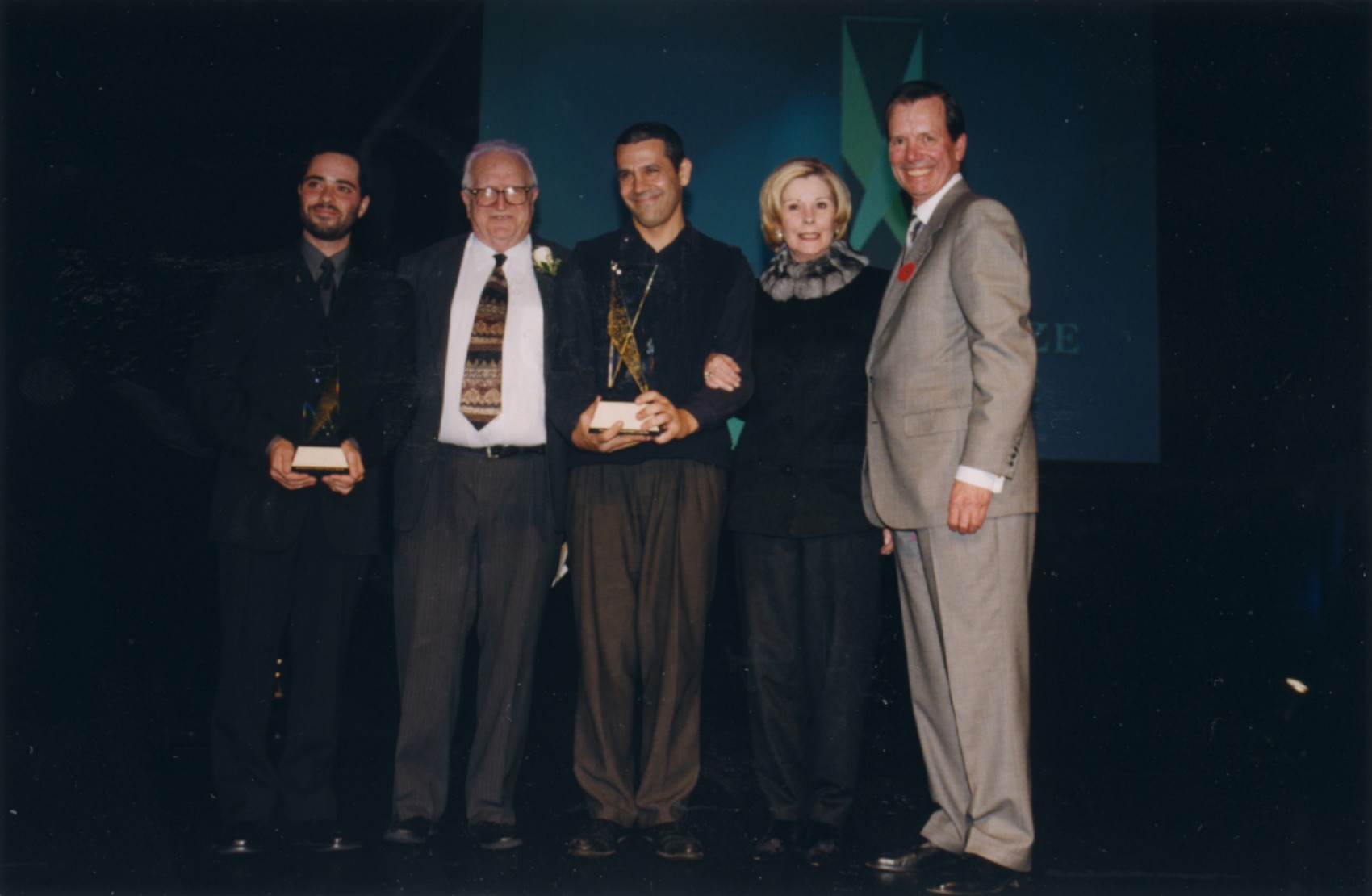 L to R: Chris Abraham, Dr. Lou Siminovitch, Daniel Brooks, Elizabeth Comper, and Tony Comper
Nominees will also have developed a marked personal style or artistic approach in terms of craft, vision, technique, interests or collaborators over the course of their careers.
Artists are eligible whose work is performed in any language or theatrical genre in either the not-for-profit or commercial sector in Canada. Nomination forms are available through www.siminovitchprize.com or www.prixsiminovitch.com.
In 2012, one of the prize's founders, Joseph Rotman, stated that the prize was never conceived to run in perpetuity. However, in July 2013, organizers announced a new partnership with the University of Toronto and the RBC Foundation that resulted in the revival of the prize.
Last updated 2020-11-27