Yee, David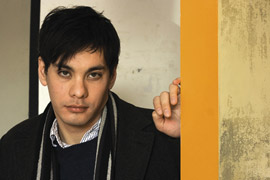 David Yee
Playwright and actor, a proud Hapa of Chinese and Scottish descent.
His acting credits include: Banana Boys by Leon Aureus, The Gladstone Variations, I Have Aids, and The Golden Dragon (Tarragon Theatre 2011).
His plays include: Lady in the Red Dress (fu-GEN Asian-Canadian Theatre Company 2008, dir. Nina Lee Aquino); and paper series (Cahoots Theatre Projects 2011, dir. Aquino). He wrote R.H. Thomson's: How to Become Chinese (for funding purposes) for the Wrecking Ball project in 2009, and also contributed to the writing of Artistic Fraud of Newfoundland's Fear of Flight.
Lady in the Red Dress time travels back to reactivate the atrocities perpetuated by the Chinese Exclusion Act and the head tax, then forward to graphically demonstrate the redress violently enacted by a Chinese femme fatale in a red dress. The subjects targeted for a lurid re-education in Canada's history are two demonical white racists, in the roles of government officials. Intriguingly, however, white Western culture provides much of the style and substance of the play: the acts of revenge are accompanied by a recitation of key lines from Yeats's poem, "The Second Coming," and the play gestures towards the film noir and the violent graphic novels of Frank Miller's Sin City and The Dark Knight. In February 2009, a revised, full production of The Lady in the Red Dress was mounted at the Young Centre for the Performing Arts. It is published by Playwrights Canada, and was nominated for a Governor General's Award in 2010.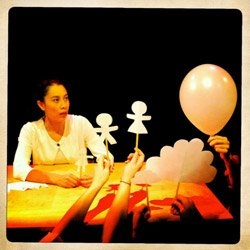 Rebecca Applebaum in "Paper Dolls" from Paper Series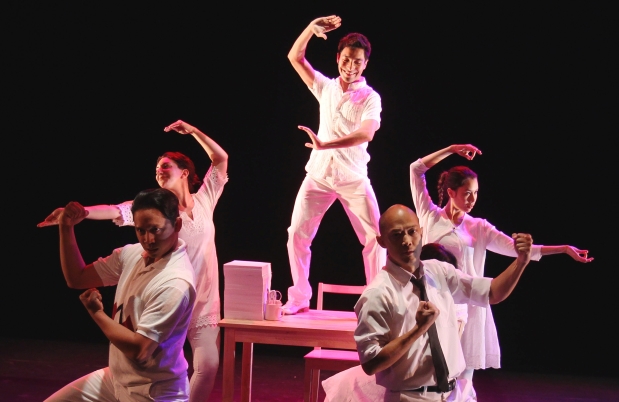 Paper Series. Photo by Dean Bicknell, The Calgary Herald
Paper Series (Cahoots Theatre Projects, dir. Nina Lee Aquino 2011) comprises six short skits using paper as a linking and thematic device. The scenarios include: running into trouble with counterfeit currency; writing a "Dear John" letter to a snoring lover; tampering with fortune-cookie fortunes to create havoc in a Chinese restaurant; using paper dolls to tell an orphan's story about her dead Scottish and Chinese parents; using origami imagery to express a lost love; displaying a medical degree instead of licence in a Toronto taxi, and then saving the customer. Actors included playwrights Marjorie Chan and Byron Abalos. Paper Series was remounted at the Magnetic North Theatre Festival in Calgary, 2012, to critical acclaim.
Carried away on the crest of a wave (dir. Aquino)) opened at the Tarragon in April 2013. It explores the consequences of the 2004 Indian Ocean tsunami through a series of discrete vignettes about flood survivors, based on interviews, showing that despite radical differences, we are all interconnected. The play was published by Playwrights Canada Press, and won a Governor General's Award in 2015.
In October 2016, fu-GEN and Factory Theatre produced Yee's Acquiesce, set in both Toronto and Hong Kong, and travelling backwards and forwards in time to a crucial meeting point. "Plagued by the success of his first book and haunted by his past, Sin Hwang arrives in Hong Kong with some unusual cargo and a lot of emotional baggage. Featuring a surreal cast of characters, from a foul-mouthed Paddington Bear to a wisecracking Buddhist monk, this sharply comedic and heartbreakingly poignant tale of self, familial and spiritual discovery reflects the cycles from which we must all break free as we find our way" (Fu-GEN website). It was published by Playwrights Canada in 2016.
His one-woman play, Acts of faith premiered in a live-stream production by Factory Theatre in the digital 20/21 season during the Covid-19 pandemic, when theatres across Canada and around the world were closed. A young African woman's faith is tested after she is sexually assaulted by a white priest. It was directed by Nina Lee Aquino and performed by Natasha Mumba, a student at the National Theatre School of Canada.
Since 2010, David Yee is Artistic Director of fu-GEN Asian-Canadian Theatre Company. He is also playwright-in-residence at the Tarragon Theatre.
Profile by Anne Nothof, Athabasca University
Last updated 2021-05-11