fu-GEN Asian-Canadian Theatre Company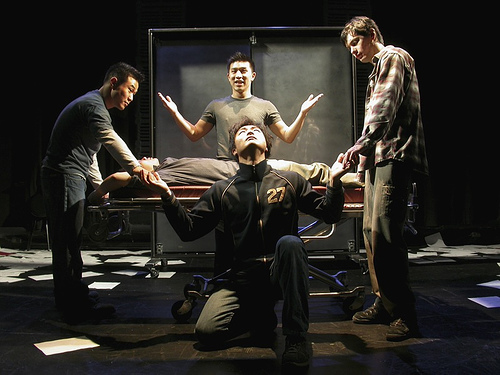 Photo of (clockwise from left) - Dale Yim, Richard Lee, David Yee, In-surp Choi, and Derek Kwan (on gurney) From Banana Boys by Leon Aureus Photo by Guy Bertrand Photography Inc.
Toronto Ontario theatre company, launched in 2002 by Nina Lee Aquino, Richard Lee, David Yee and Leon Aureus to develop and produce Asian-Canadian plays. Fu-gen's playwriting unit, called "The Kitchen", provides a supportive environment for playwrights to complete a first draft for a staged reading at the Potluck Festival, an annual showcase event. In June 20-29, 2008 this was held over two weekends at the Factory Theatre, and featured staged readings of eight works: Brown Balls by Byron Abalos; Stroke by Marie-Leofeli R. Barlizo; A Taste of Empire by Jovanni Sy (presented by Cahoots Theatre Projects and directed by Guillermo Verdecchia); The Kitchen Showcase featuring five new playwrights; Tale of a Mask by Terry Watada; Kim's Convenience by In-surp Choi; Pu-erh by Norman Lup-Man Yeung; and lady in the red dress by David Yee.
Playwrights are often actors for the company, and from diverse Asian-Canadian communities, including Chinese, Japanese, Korean, and Filipino. Dramaturges and directors are also typically from these communities.
Fu-gen's first full production was Banana Boys by Leon Aureus, adapted from the novel by Terry Woo (published by Playwrights Canada P, 2004). It tracks the conflicted lives of five young Chinese-Canadian men, as they struggle with the traditional expectations of their families, with materialistic culture and personal values – with drugs, booze and women – and their loyalties to each other. It premiered at the Factory Studio Theatre in 2004 (dir. Aquino), and in a revised form toured by fu-gen to the 2005 Magnetic North Theatre Festival in Ottawa, and remounted at Hart House Theatre in association with the Richmond Hill Centre for the Performing Arts in 2008.
In 2007, fu-Gen presented Singkil by Filipina actor and playwright Catherine Hernandez (dir. Aquino); in 2009, the mainstage production was lady in a red dress by David Yee (dir. Aquino); in 2011, Brown Balls by Byron Abalos (dir. Aquino); in 2012, Sex Tape Project by Adrienne Wong, Donald Woo, and David Yee; in 2013 Ching Chong Chinaman by American playwright Lauren Yee. In 2016, David Yee's Acquiesce premiered in a co-production with Factory Theatre.
Nina Lee Aquino was Artistic Director from 2002 to 2010. In June 2010, David Yee was appointed Interim Artistic Director, and in 2011 he was appointed Artistic Director.
Website: www.fu-gen.org
Profile by Anne Nothof, Athabasca University
Last updated 2017-11-02