Aureus, Leon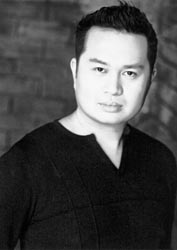 Leon Aureus
Actor, playwright, producer, and filmmaker, born in Quezon City, Philippines in 1973. He immigrated to Toronto Ontario at a young age, where he currently resides. His work often explores the intercultural dynamics of Asian Canadians.
Acting credits include: Aisha 'n Ben (Theatre Ji); People Power (Carlos Bulosan Theatre); a nanking winter by Marjorie Chan (Nightwood Theatre); Singkil (fu-GEN Asian-Canadian Theatre Company, Dora Mavor Award nomination); Yogyakarta (Absti Omen/Bell Tower Theatre).
In 2001, he founded the Gum San Theatre Company, which developed into the fu-GEN Asian-Canadian Theatre Company, where he served as director and producer. He is currently Artistic Director of Carlos Bulosan Theatre.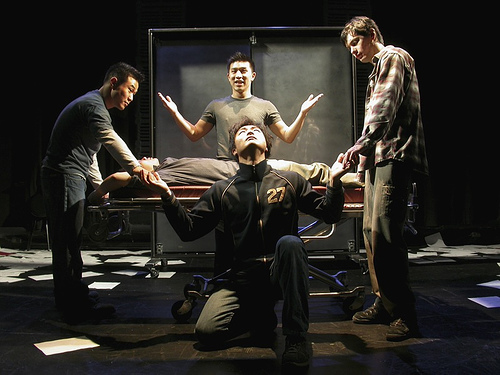 Photo of (clockwise from left) - Dale Yim, Richard Lee, David Yee, In-surp Choi, and Derek Kwan (on gurney) From Banana Boys by Leon Aureus Photo by Guy Bertrand Photography Inc.
As a playwright, Leon Aureus adapted the novel Banana Boys by Terry Woo for the stage, and it has enjoyed popular productions at fu-GEN, at the Magnetic North Theatre Festival in Ottawa, and the Firehall Arts Centre in Vancouver. It is published by Playwrights Canada Press, and included in the anthology, Love and Relasionships Vol. 2 (Playwrights Canada P, 2009). As part of the Carlos Bulosian Theatre collection, he co-wrote People Power (Theatre Passe Muraille 2006).
Television credits include CBC's The Border, and Discovery Channel's Mayday.
His first short film, Friends Like These was nominated for Best Canadian Short at the 2002 ReelWorld Film Festival.
Website: www.aureuscreative.com
Last updated 2020-02-27