Jasmin, Stéphanie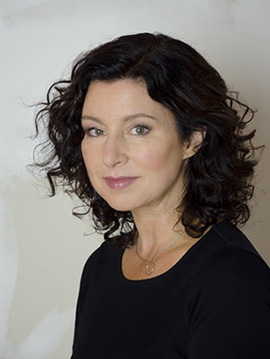 Stéphanie Jasmin
Video and set designer, director, and playwright, born in Neuville, Quebec in 1980. Stéphanie Jasmin has an art history degree from L'École du Louvre in Paris, and a degree in filmmaking from Concordia University. Since 2002, she is co-artistic director of Théâtre UBU with Denis Marleau, combining visual arts, film and theatre in highly imaginative productions, in which "form and content are always interrelated and questioned" (quoted in The Globe and Mail, 5 Nov 18). She has designed the video for thirty UBU productions and sets for more than half from 2002 to 2018.
Jasmin has created fantastical designs with projections and light for a wide range of productions in Canada and Europe, from Espace Go in Montreal to Comédie-Française in Paris (Agamemnon 2011). For the UBU production of Maurice Maeterlinck's Les aveugles in 2002, Jasmin projected live video of actors' faces onto mannequins. She designed Dors mon petit enfant by Jon Fosse, and Comédie by Samuel Beckett in 2004. With Marleau, she designed Bela Bartok's opera Bluebeard's Castle (2007); Jackie (2009) by Elfriede Jelinek; Le dernier feu de Dea Loher (2013); La ville (2014) by Martin Crimp; and L'autre hiver, a fantastical opera featuring the two surrealist French poets, Rimbaud and Verlaine, set on a boat frozen in ice, with libretto by Normand Chaurette, music by Dominique Pauwels, directed by Marleau (Festival TransAmériques 2016). Le Tigre bleu de l'Euphrate (in collaboration with Théâtre de Quat'Sous) played at the National Arts Centre's French theatre in October 2018. Jasmin's play, Les Marguerite(s) opened at L'Espace Go in 2018, and tours Europe in 2021.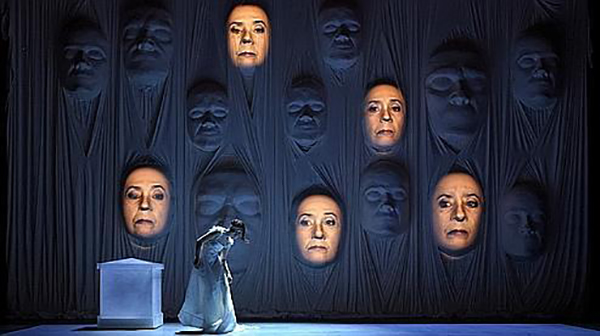 Agamemnon, Comédie-Française, Paris, 2011.
Jasmin has written and directed two original stage plays, published a portrait of sculptor Michel Goulet (Éditions Varia, 2007) and specialized texts on the theatre. Since 2005, she has been working as a dramaturge with several Quebec women choreographers. She also hosts creative workshops in Montreal and Europe.
In 2018, Stéphanie Jasmin was awarded the $100,000 Siminovitch Prize in Theatre.
Sources: J. Kelly Nestruck. www.theglobeandmail.com. 5 Nov 2018; Theatre UBU website; Siminovitch Prize website.
Profile by Anne Nothof, Athabasca University
Last updated 2021-02-10