Mump and Smoot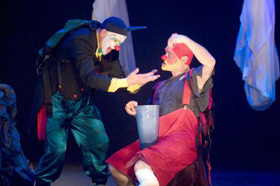 Mump and Smoot in Cracked
"Clowns of Horror," created by actors Michael Kennard and John Turner in 1988 in Toronto Ontario. Kennard and Turner have developed seven shows set in the macabre fantasy world of "Ummo," with its own god, language, and rituals which provide a grotesque and sinister parody of human cultural and social habits. Their red-nosed absurdist characters are mutually dependent and often antagonistic. They encourage audience interaction, and have attracted a devoted following from their regular appearances at Fringe Festivals across Canada. They have also performed at La Jolla Playhouse near San Diego; the Yale Repertory Theatre in New Haven, where they were Associate Artists for seven years; the American Repertory Theater in Cambridge; Center Stage in Baltimore; Dallas Theater Center; Astor Place Theater in New York; Palestinian National Theatre and the Acco Theatre Festival in Israel; Alberta Theatre Projects; Canadian Stage; and Theatre Network.
Michael Kennard graduated from the University of Guelph Drama program, and has taught clowning in drama schools in Canada, the United States and Israel, most recently at the University of Alberta. He has also directed productions at the Globe Theatre, Second City, and Berkeley Street Theatre in Toronto. Recently he developed a one-man show, entitled Puzzle Me Red.
John Turner has directed Karen Hines' Citizen Pochsy, Kennard's Puzzle Me Red, Tomson Highway's A Trickster Tale with De-ba-jeh-mu-jig Theatre, and has worked extensively as a clown coach, director, and teacher across Canada and at his farm on Manitoulin Island.
Kennard and Turner met in Second City workshops in 1986, where they worked with Karen Hines to explore extemporaneous comedy. They studied clowning with Richard Pochinko, who combines many traditions, including Amerindian, American, and European. For Pochinko, the "personal clown" is "basically an intensely visceral performance entity born from the celebration of the extremities and the normalcy of the self" (Karen Hines, "Introduction", The Pochsy Plays. Toronto: Coach House, 2004, p. 13).
Their first show, Jump the Gun was launched in May 1988, followed by Something (1989), Caged (1990), Ferno (1992), Tense (1997), Something Else (1998), Flux (Theatre Network 2002), Cracked (Vancouver East Cultural Centre 2010), and Anything (Theatre Network 2014).
They have won two Dora Mavor Moore Awards, one for outstanding production (Flux), and one for direction by Karen Hines, and nominated for a Canadian Comedy Award.
In Cracked, the nether world of Mump and Smoot is envisaged as a dank cave, and their survival depends on forays into the audience to capture snakes and reptiles for food. It is jeopardized by Smoot's drinking from a forbidden vial; his subsequent decline and Mump's desperate attempts to save him with amputation are fodder for macabre and bloody farce. Mump is an authority figure, organized and self-assured; Smoot is dependent and insecure, resulting in a wide range of disasters. They occasionally lapse into English to get audience assistance, and their operatic demise is obviated by the cracking of a large egg, which has increased in size as their own lives diminish.
Critic, Colin Thomas gives Cracked an enthusiastic review in Straight.com (27 May 2010):
" Turner is one of the most charismatic performers you will ever see. With two stubby little red horns sticking out of his forehead, Smoot is pure id, bloodthirsty when he's hunting for rodents with his club, terrified of touching Mump's chair, shamelessly manipulative when he sees the opportunity. Smoot becomes disabled during Cracked, and he milks his misfortune as if he were on a telethon. But like a kid asking for her 18th glass of water at night or a puppy who wants to play when you're writing a review, Smoot just wants to be loved, and you can't help but say yes. Turner's physicality is so vivid it's like every cell in his body is on fire. Kennard's more cynical, contained Mump makes an excellent foil. And both performers are strong improvisers, even though they're speaking gibberish, with the occasional bit of English thrown in."
Website: www.mumpandsmoot.com
Profile by Anne Nothof, Athabasca University
Last updated 2021-04-05