Pintal, Lorraine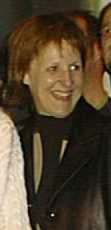 Lorraine Pintal
Quebec-based director/playwright and actor and the first female artistic director of the Théâtre du Nouveau Monde/TNM (where she has been since 1991). She was born in Plessisville, September 24, 1951.
After studying at the Conservatoire d'art dramatique de Montréal, in England and France, she returned here to work in theatre, film and television. She co-founded Théâtre de La Rallonge in 1973 and worked there for the next 15 years. (She also, in that year, appeared in her first production at TNM - Dario Fo's Mistero Buffo, directed by André Brassard.)
At the Théâtre du Nouveau Monde she has directed many works including Jeanne Dark des Abattoirs/St. Joan of the Stockyards,Les Beaux Dimanches, Ines Pérée et Inat Tendu, Ha Ha, Andromaque,Hedda Gabler, Les oranges sont vertes and the October, 1999, premiere of Normand Chaurette's Stabat Mater II as well as the world premiere of Robert Lalonde's Monsieur Bovary (January, 2001).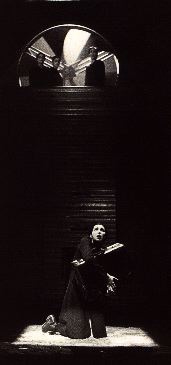 Lorraine Pintal's 1994 production of Bertolt Brecht's
Jeanne Dark/St. Joan of the Stockyards
, at the
Théâtre du Nouveau Monde
(photo: Yves Renaud)
She has also directed at the Compagnie Jean-Duceppe (Vol au dessus d'un nid de coucous/One Flew Over The Cuckoo's Nest, La Visite des Sauvages), Théâtre de Quat'Sous (Hosanna, Les Filles du 5-10-5, Les Larmes amères de Petra von Kant/The Bitter Tears of Petra von Kant, La Grande envolée, La Compagnie des hommes), at Nouvelle Compagnie Théâtrale / Théâtre Denise-Pelletier (Les femmes savantes/Learned Ladies), and at La Rallonge (Les jumeaux d'Urantia, Le Syndrome de Cézanne).
Mme Pintal is also remembered for her own play Madame Louis 14 in which she acted at the Nouvelle Compagnie Théâtrale and on tour.
In 1997 she inaugurated the completely renovated TNM and in 2001 led the company into its 50th season (mounting a production of Réjean Ducharme's L'Hiver de force herself).
In 2019, she was awarded a Governor General's Award for the Performing Arts for Lifetime Artistic Achievement.
She has one daughter, Maude.
Among sources: "Lorraine Pintal" by Jean-Paul Soulié, La Presse, Montreal, October 14, 2001
Last updated 2019-02-28