Drapeau, Sylvie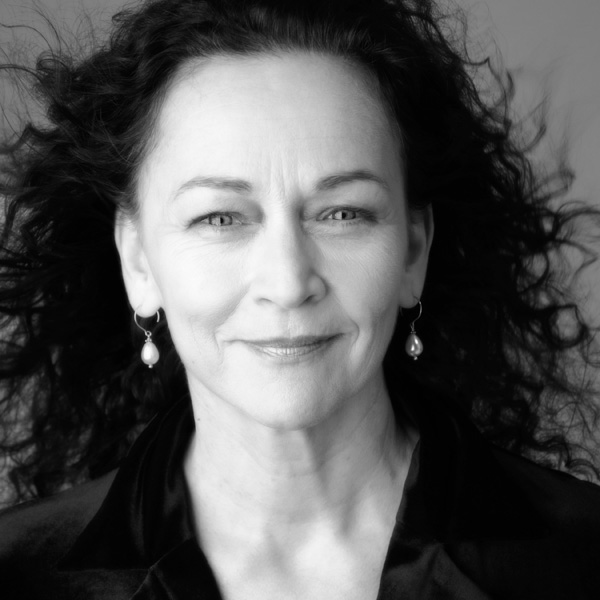 Sylvie Drapeau. Photo by Angelo Barsetti.
Quebec-based actor and writer, born in 1962 and considered to be one of the greatest actors in Canada.
Sylvie Drapeau graduated from the National Theatre School of Canada in 1986, and has worked constantly since with virtually every major director in Quebec and in most of the province's major houses.
Almost from her début, she was noticed by the critics and began to create a following among audiences for her intense, almost impossibly centred renditions of roles great and small. In 1988 she received the prize for Discovery of the Year from the Association québécoise des critiques de théâtre for three performances: Shakespeare's La Tempête/The Tempest (Espace Go, directed by Alice Ronfard), Le Cri (adapted from Buchner's Woyzek, Pigeons International, directed by Paula de Vasconcelos) and Michel Tremblay's Bonjour, là, bonjour (Théâtre du Nouveau Monde/TNM). This last was directed by René Richard Cyr with whom she had formed an artistic bond in the NTS, and with whom she would work most frequently over the next ten years. In 1989 the critics' association nominated her for best performance by an actress for Brigitte Jacques' Elvire Jouvet 40 (Théâtre de Quat'Sous, directed by François Faucher). She was nominated again in 1990 for her performance in Dominic Champagne's La Répétition/Playing Bare (directed by the author at the Nouvelle Compagnie Théâtrale / Théâtre Denise-Pelletier). Astoundingly, she was nominated again in 1991 and won for her interpretation of Winnie in Beckett's Oh, les beaux jours/Happy Days (directed by Brigitte Haentjens at Espace Go). She would be nominated for the award again the following year for Cindy Lou Johnson's Traces d'étoiles/Brilliant Traces (Théâtre de Quat'Sous). The production would be significant for two other reasons: it marked Pierre Bernard's directorial début and later, at the Saidye Bronfman Centre, Sylvie Drapeau would perform the role in English to excellent reviews.
When the critics' awards were replaced by the Masques Awards in 1994, she would be the first female lead to receive one for performances in two plays, both at TNM, Goldoni's La Locandiera, directed by Martine Beaulne, and Tremblay's En pièces détachées, once again directed by her artistic accomplice, Cyr.
But to simply enumerate the roles for which she won or was nominated for awards gives no idea of her gigantic range. She has played leads, always to critics' and audience's delight, in Strindberg's Mlle Julie/Miss Julie, the Tremblay 6-hour triple-bill A toi, pour toujours, ta Marie-Lou/Ste-Carmen de la Main/Damnée Manon, Sacrée Sandra, in plays by Marivaux, Claudel, Racine, Roland Lepage and Tennessee Williams.
But it was in the 1995-96 that the audiences of Montreal would see, in a single season, the enormous and complex talent of this artist: in a seven month period she performed Albertine at 30 in Tremblay's Albertine, en cinq temps directed by Beaulne (Espace Go), Henrik Ibsen's Hedda Gabler, directed by Lorraine Pintal and Frank Wedekind's Lulu directed by Denis Marleau (both at the TNM), and a revival of Elvire Jouvet 40 at Quat'Sous.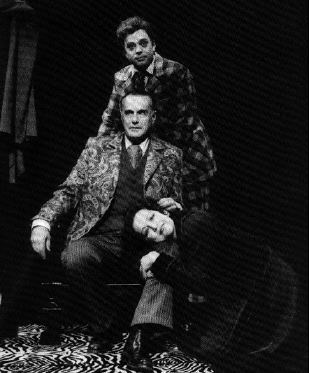 In 1999, Sylvie Drapeau appeared in Jean Cocteau's La Voix humaine at Espace Go (again directed by Alice Ronfard) - a solo work seemingly invented for her; the run was virtually sold out before the play opened; in April she appeared in the premiere of Larry Tremblay's Les Mains bleues and in November in Brigitte Poupart and Marie Michaud's WC. In March, 2001, she appeared in the TNM production of Macbeth.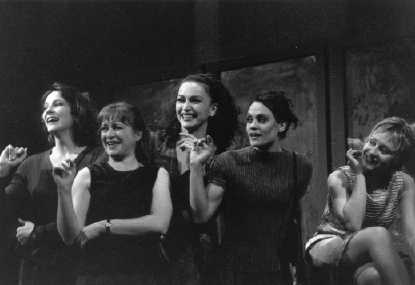 Sylvie Drapeau (c) in Brigitte Poupart and Marie Michaud's WC (Trans-Théâtre, 1999; photo: Céline Lalonde)
During the 2009-10 season she had major roles in five productions: as Blanche in A Streetcar Named Desire; in the new play Chambre[s] by Eric Jean and Pascal Chevarie (Théâtre de Quat'Sous); in an adaptation of Maxime Gorki's work Vassa (Théâtre de Rideau Vert); in the title role of Edith Piaf; and as a distraught and obsessively organized mother, who is haunted by the death of a neighbour whom she believes she failed, in the monologue La Liste by Jennifer Tremblay (Théâtre d'Aujourd'hui, dir Marie-Thérèse Fortin). This production toured throughout Quebec in 2011 and appeared at UniThéâtre in Edmonton in March 2012.
Though her first love is theatre, Drapeau has also performed on television and in films, such as Jesus of Montreal and The Barbarian Invasions.
She has written four novels, published by Leméac Éditeur: Le Fleuve(2015), Le Ciel (2017), L'Enfer (2018), and La Terre (2019), for which she received a Governor General's Award nomination for French-language fiction.
She has one child.
Profile by Gaetan Charlebois.
Last updated 2020-11-18