A toi, pour toujours, ta Marie-Lou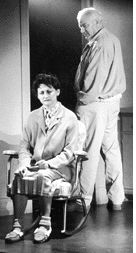 Drama in one long act by Michel Tremblay first staged at the Théâtre de Quat'Sous on April 29, 1971, directed by André Brassard, with Lionel Villeneuve, Hélène Loiselle, Luce Guilbeault, and Rita Lafontaine. Revived in 1991 at Théâtre d'Aujourd'hui as part of a trilogy called La Trilogie des Brassard (the two other works were Sainte-Carmen de la Main and Damnée Manon, Sacrée Sandra). In this instance also directed by Brassard and featuring Lafontaine, Rémy Girard, Élise Guilbeault, and Sylvie Drapeau. Produced in English at Tarragon Theatre in Toronto in 1972 as Forever Yours, Marie-Lou. The work has been performed in French and English across the country.
Two daughters come back to the family apartment to remember their parents who were unhappily married. While we listen to the daughters discuss what has become of their lives (one has become a country and Western singer, the other a religious fanatic), we also see the permutations of the parents' unhappiness. A chamber work showing Tremblay's extraordinary control not only over language (he uses joual, here as in many of his plays) but also over structure. Raw, brutal and with a hair-raising ending, this remains one of the great plays of this country's dramatic literature.
All of the characters of this work appear in other Tremblay dramatic or prose works (notably the two daughters - Carmen and Manon in Sainte-Carmen de la Main and Damnée Manon, Sacrée Sandra ).
In October, 2001, Théâtre de Quat'Sous artistic director Wajdi Mouawad "used" Marie-Lou in another theatrical sense; in his adapation of Pirandello's Six Characters in Search of An Author, the play within the play is Marie-Lou...Hélène Loiselle, the original Marie-Lou, appeared in the Pirandello.
Commentary by Gaetan Charlebois
Last updated 2019-02-25