Guilbeault, Luce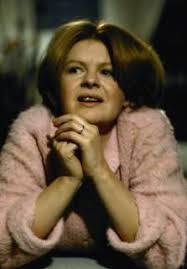 Luce Guilbeault
Actor/director born in Montreal, Quebec March 5, 1935; died in Montreal of cancer July 12, 1991 at the age of 56.
Luce Guilbeault became interested in theatre while studying philosophy at the Université de Montréal. She then studied in New York and at the Conservatoire d'Art Dramatique de Montréal.
She went on to play virtually every major venue in Quebec during the 1960s, including Théâtre du Nouveau Monde (Les Oranges sont vertes (1972); Théâtre du Rideau Vert (notably in Du vent dans les branches de sassafras, 1966, Ce soir on improvise/Tonight We Improvise, 1968); and Théâtre de Quat'Sous, in a wide range of works from the street-plays of Michel Tremblay (which she also performed on television) to the classics of Molière. She appeared in, co-wrote and directed the celebrated production of La Nef des Sorcières at Théâtre du Nouveau Monde in 1976.
In 1971, she performed in Des Souris et des hommes (Radio-Canada, dir: Paul Blouin), a production of the Steinbeck play staged for television. During the 1970s, she acted in twenty films, including several directed by Denis Arcand (La Maudet Galette, 1972, and Réjeanne Padovani, 1973). In the 1980s, she appeared in popular TV series, including the téléroman Des dames de cœur (Radio-Canada 1986-89), centred on the lives of four women, played by Guilbeault, Louise Rémy, Andrée Boucher, and Michelle Rossignol.
Luce Guilbeault's performances were marked by passion underscored by sensual vulnerability. She was always fully invested in creating her characters.
Her directing work focused on documentaries of Canadian and American feminists.
Luce Guilbeault was awarded the Canadian Film Award in 1975, and the Prix Iris by the National Film Board in 1991 for her life's work.
In 2000 the feature-length biographical documentary Luce Guilbeault, explorActrice was produced by the NFB, directed by Marcel Jean (https://www.nfb.ca/film/luce_guilbeault_exploractrice). In 2016, her son, Ariel Borremans, published Ma mère dans l'oeil de mon père, which features photographs of Guilbeault taken by his father, Guy Borremans (1934–2012), and texts by Quebec artists who worked with her: Michel Tremblay, André Melançon, Réjean Ducharme, and Denys Arcand.
Profile by Gaetan Charlebois.
Last updated 2021-01-20