Ronfard, Alice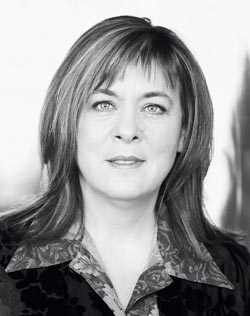 Alice Ronfard
Quebec-based director and part of a theatre family including her late mother Marie Cardinal and father Jean-Pierre Ronfard.
Alice Ronfard studied fine arts in Paris and began her career as a stage designer for the Théâtre Expérimental des Femmes/TEF before she became an actor. She performed at the Nouveau Théâtre Expérimental in her father's epic Vie et Mort du Roi Boiteux.
Since then she has become one of Quebec's most important directors, specializing in large productions, especially Shakespeare and opera. Among many other works she has directed La Tempête/The Tempest (TEF, 1988), a gigantic production of Claudel's L'Annonce faite a Marie (Espace Go, 1989), and a highly aesthetic production of Les Troyennes/Trojan Women (Théâtre du Nouveau Monde/TNM, 1993). The critical and audience reaction to her 1995 TNM production of Cyrano de Bergerac was uniformly positive.
In 1997, however, her production, at Espace Go, of Koltès Quai Ouest, was not so well-received and prompted critic Gaëtan Charlebois of Hour to shout out, "C'est d'la merde!" (It's s***) at the final blackout. A controversy erupted surrounding the rights and duties of critics. Alice Ronfard removed herself from the discussion.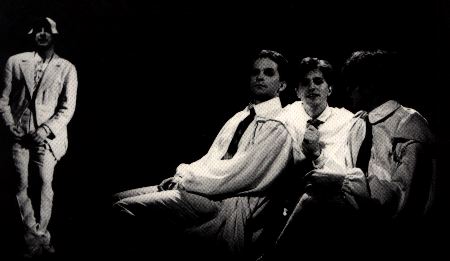 The 1992
Espace Go
production of
Normand Chaurette
's
Provincetown Playhouse, juillet 1919, j'avais 19 ans
, directed by Alice Ronfard (photo: Les Paparazzi)
She returned to Espace Go in January, 1999 with a production of Jean Cocteau's La Voix humaine starring Sylvie Drapeau; the piece was virtually sold out before it opened. In February, 1999, she received the Masque Award for best director for her production, for the Théâtre du Trident, of Yvonne, princesse de Bourgogne.
In March, 2001, she directed the world premiere of Sébastien Harrisson's Floes at Théâtre d'Aujourd'hui.
She has directed two plays by Evelyne de la Chenelière at Espace Go: Désordre Public in 2006, and Les Pieds des Anges in 2009. More recently, in 2018, she directed Candide at the Théâtre du Nouveau Monde.
From 2001 to 2004, alongside André Brassard, she directed the French section of the National Theatre School of Canada.
Profile by Gaetan Charlebois.
Last updated 2021-09-13