Théâtre du Trident
Quebec-city company founded in 1970 as a substitute for several local companies which had disbanded (notably Théâtre de l'Estoc).
Its first artistic director was Paul Hébert and the company's first production, presented at the Grand Théâtre de Quebec, was Jean Barbeau's 0-71.
Théâtre du Trident was precisely what the capital city needed and was a resounding success from its first season. Hébert's leadership made it almost immediately an important force. Its mandate has been to produce a balance of classic and international works, Quebec plays, and new work developed by the company as well as co-productions.
Plays presented there included Éloi de Grandmont's adaptation of Pygmalion (starring a young Dorothée Berryman and Albert Millaire); Charbonneau et le Chef; and La mort d'un commis voyageur/Death of a Salesman (these last two starring a brilliant Jean Duceppe).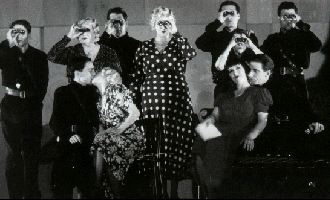 The Trident's production of Pirandello's Ce soir on improvise/Tonight We Improvise (1994-95 season)
The company has presented the works of Marie Laberge, Maryse Pelletier, and Roland Lepage, as well as works by Shakespeare, Molière, Mrozek, and Williams. In 1999, it revived Réjean Ducharme's very difficult work Inès Pérée et Inat Tendu and in 2000, presented Robert Lepage's La face cachée de la lune.
Artistic Directors have included Serge Denoncourt and Marie-Thérèse Fortin (1998). The current Artistic Director is Emile Beauchemin, and the Executive Producer is Martin Brouard.
To celebrate its 45th season (2015/16), Théâtre du Trident offered a season full of emotion and surprises: a dramatic adaptation of Orwell's novel,1984; Robert Lepage's interpretation of the Marquis de Sade in Quills; and a stunning adaptation of Larry Tremblay's novel, L'orangeraie.
The 2016/17 season included 887 by and starring Robert Lepage; and a dramatic adaptation by Frédéric Duboi of the classic and enigmatic Quebec film Les bons débarras by Réjean Ducharme, in a co-production by Trident and Théâtre des Fonds de Tiroirs.
Website: www.letrident.com
Profile by Gaetan Charlebois and Anne Nothof
Last updated 2020-03-26