Berryman, Dorothée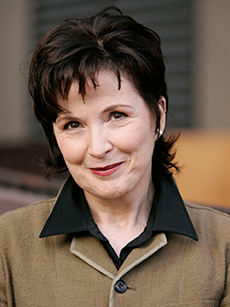 Dorothée Berryman
Bilingual actor and singer, born in Quebec City, Quebec, April 28, 1948.
After performing with Troupe des Treize, Mme Berryman burst onto the scene in 1971 with her performance as Élise in Eloi de Grandmont's adaptation of Bernard Shaw's Pygmalion at the Théâtre du Trident. She subsequently appeared in the world premiere of Jean Barbeau's Le chant du sink.
Among the productions in which she has starred since are La Ménagerie de verre/The Glass Menagerie, Les Fourberies de Scapin and La nuit des rois/Twelfth Night, as well as in François Beaulieu's La Collection de Madame Suzanne (Café de la Place des Arts, 1979), Gaëtan Charlebois's Michaël (Théâtre de Quat'Sous, 1980), Bernard Slade's Chapeau/Tribute (Théâtre du Rideau Vert, 1981) and Feydeau's Le système Ribadier (Théâtre des Variétés, 1999).
More recently, she has appeared in La cantatrice chauve suivie de La Leçon (Théâtre du Rideau Vert 2017); Les enfants d'Adam (Théâtre de l'Opsis 2017); Tournée 2018); Les Nonnes (Théâtre de Marjolaine 2019).
Mme Berryman has also had a solid career in cinema (appearing notably in Denys Arcand's Le déclin de l'empire Américain/Decline of the American Empire) and on television.
Profile by Gaetan Charlebois
Last updated 2020-01-15