Théâtre des Variétés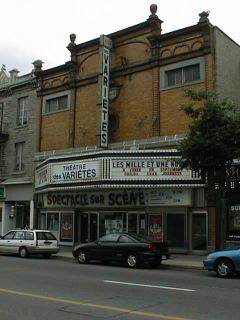 Quebec company founded in Montreal by Gilles Latulippe in 1967 to present variety, cabaret and comic theatre.
It was housed in a 725-seat slightly renovated cinema (the Dominion, built in 1913) on Montreal's Rue Papineau in the east end, across the street from the Théâtre la Licorne and a Bingo Hall. A common sight in front of the theatre, were lines of buses arriving from all over the province to take in the shows that were programmed or starred or were directed by or written by (or all of the above) the beloved comic Latulippe.
Some of the performers who played the hall to enormous success were Jean-Louis Millette, Olivier Guimond, Rose Ouellette (La Poune) and the popular cross-dresser, Jean Gilda. Many new comics, seeing the venue's built-in audience and, also, as an homage to the great past of Quebec comedy, began to play the Variétés. Performances staged by the house company, under Latulippe, included variety shows and plays written by Latulippe as well as vaudevilles and farces from around the world.
In 1998, Latulippe conferred managment of the house on his son Olivier (named for Olivier Guimond). The house was subsequently sold, in February 2000, and renamed the Théâtre des Nouveautés. It was up for sale again a year later. The space is now called Le Cabaret du Plateau.
It is important to note that since the beginning, Latulippe has recorded every work during his tenure at the house on tape or video.
The house and Latulippe's company received no governmental funding.
Profile by Gaetan Charlebois
Last updated 2020-04-17