Hébert, Paul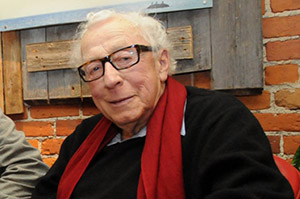 Paul Hébert. Photo by Martin Martel.
Actor/director born in Thetford Mines, Quebec in 1924; died April 20, 2017. Paul Hébert began acting in 1945 before studying at the Old Vic in Great Britain. On his return to Canada in 1952, he founded the Théâtre d'Anjou and the summer theatre, Le Chanteclerc while acting on television, in radio and on stage. He was in the premiere of Bousille et les justes.
Paul Hébert was the first artistic director of the Théâtre du Trident and directed many of the hits of its first seasons including Charbonneau et le Chef (which he adapted); La mort d'un commis voyageur/Death of a Salesman (both starring Jean Duceppe); and Éloi de Grandmont's adaptation of Pygmalion (which he directed again at Compagnie Jean-Duceppe in 1990). He also founded the Théâtre Paul-Hébert in Ile D'Orléans, where he lived.
In 1998, he played Prospero in Robert Lepage's 3D version of Shakespeare's La Tempête/The Tempest.
He taught at the National Theatre School of Canada and was director of both Conservatoires d'Art Dramatique. He was inducted as an officer of the Order of Canada and won the Governor General's Award for Performing Arts.
He was one of the most efficient directors in the country, with an enormous respect for the playwright's art.
Viewings: Un Mois à la campagne, Radio-Canada, 1959, dir: Jean Faucher, a production of the Turgenev play staged for television and featuring Paul Hébert.
Profile by Gaetan Charlebois
Last updated 2020-01-14