Bousille et les justes

Drama in four acts by Gratien Gélinas, premiered August 17, 1959 at the Comédie-Canadienne, directed by the author and Jean Doat, set by Jacques Pelletier, costumes by Solange Legendre, featuring Pascal Desgranges, Jean Duceppe, Yves Létourneau, Béatrice Picard, Gratien Gélinas, Juliette Huot, Nicole Filion, Paul Hébert, Gilles Latulippe and Monique Miller. Translated into English by the author as Bousille and the Just and presented at the Comédie-Canadienne, February 23, 1961 with much of the original cast.
A phenomenon not only in terms of Canadian and Quebec theatre but also in terms of Gélinas' career which the work extended into a new decade. Gilles Latulippe's career was also launched by this play. The piece played throughout the country and ran and reran for years. A penetrating and skilfully paced work with a superbly crafted climax, it was received with delight by audiences and critics alike.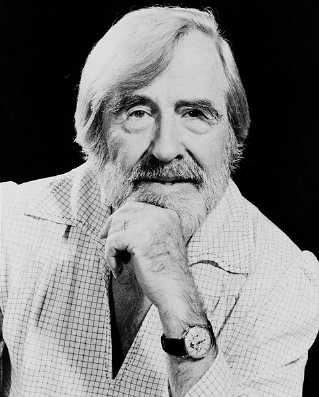 Gratien Gélinas (Montréal, Québec - ca. 1980 André Le Coz/Archives nationales du Canada/PA-199456)
The setting is a small room in a second-rate hotel. Aimé has been accused of causing the death of a man in a fight over a woman. His family, another bleak portrait of the Quebec bourgeoisie (see Marcel Dubé's Les beaux Dimanches), is ashamed of the attention the crime and trial are getting. Bousille (from the French verb "bousiller": to botch, bungle), is the poor, slavish, insanely religious (read: superstitious) but good-hearted cousin who was Aimé's sidekick and witness to the crime. A reformed drunk, Bousille has been lame since a car accident he suffered with Aimé. As the trial approaches, Bousille wants to tell the truth, which wouldn't serve Aimé; the family (the Just of the title), conspire to change his mind. The family enforcer, Henri, psychologically and physically tortures Bousille with disastrous results.
The Montreal Star called the work, "a first-class and entertaining study of French-Canadian life." Montreal's La Presse (Jean Béraud) said, in a very positive review, " [Gélinas proved himself to be] not an author of tragedies, as the Ancients saw it, but a modern one who uses naturalism as much to get comic effects as to create...a climate of sadistic cruelty which is almost intolerable."For a 1976 revival at the National Arts Centre, the Ottawa Citizen said, "Bousille is a reminder of the fragility of truth and goodness, a reminder of the case with which brute force can seemingly overcome simple trust and love." The play was revived at the Nouvelle Compagnie Théâtrale / Théâtre Denise-Pelletier in 1996 and at Théâtre du Rideau Vert in 1999.
Commentary by Gaetan Charlebois
Last updated 2017-01-28