Millaire, Albert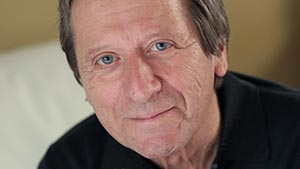 Albert Millaire. Photo courtesy of Radio-Canada.
Quebec-based actor and director, born in Montreal, January 18, 1935 who has worked in French and English in Canada, the United States, throughout Europe and in Russia; died August 15, 2018. Albert Millaire studied at the Conservatoire d'art dramatique de Québec, in Paris and at Covent Garden, London, England.
He began his professional career at 20 (playing Vladimir in En attendant Godot/Waiting for Godot) and was soon associate director of a company that presented Shakespeare in French. His love of the bard brought him to the Stratford Festival in the 1970s and 90s where he directed and acted in productions of Shakespeare, Roch Carrier's La Guerre, Yes Sir! and John Murrell's Memoir among many others. In 1999, he appeared in Denis Marleau's production of Urfaust.
He has been the associate artistic director for Théâtre du Nouveau Monde (and was for some time one of the Company's leading men), and the artistic director for Théâtre Populaire du Québec, Théâtre du Bois de Coulonges and the Théâtre de Repentigny. He was also president for the body which governs the Masques Awards. He directed opera and had extensive film and television credits.
Albert Millaire was renowned for an elegant presence and a huge, rolling voice.
He said of theatre, "[It] is an instrument of communication that we transform with the times. If I wish to use it as I find it or I wish to transform it myself, is a personal choice that has nothing to do with anyone but myself...When I act, I give a text, I give myself and I get something from the hall; it's a constant exchange."
He has three daughters; Anne, Catherine and Frédérique. He was a Companion of the Order of Canada, and the recipient of a Governor General's Award for Lifetime Artistic Achievement in 2006.
Viewings: Phèdre, Radio-Canada, 1963, dir: Jean-Paul Fugère, a production of the Racine play staged for television and featuring Millaire.
Profile by Gaetan Charlebois.
Last updated 2018-11-14