La Guerre, Yes Sir!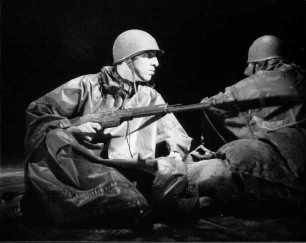 Seminal Canadian drama by Roch Carrier adapted from his own novel. Premiered at Théâtre du Nouveau Monde, in November 1970, while Montreal, coincidentally, was under the War Measures Act (The October Crisis). It was subsequently presented at the National Arts Centre and at the Stratford Festival.
The work takes place during WWII in a village in Quebec. The townspeople wish to have nothing to do with the English War, as they see it. One man mutilates himself to avoid the draft. But some go overseas to die, including a young man who can find no way out. During a wake for the dead soldier, the anglos who have brought back the body, stand outside and irritate and enrage the townspeople. A fight breaks out, an anglo is killed, and the two sides mourn their dead.
The play is not about war as much as it is about the loss of innocence, xenophobia (the locals are not presented as lovingly as one might expect), and the traditional problems between the two linguistic groups.
Commentary by Gaetan Charlebois.
Last updated 2020-09-03