Boucher, Denise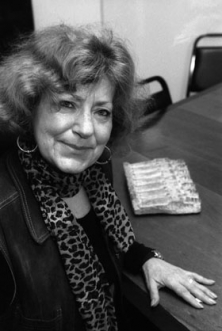 Denise Boucher
Photo by Jacques Grenier, Le Devoir
Feminist poet, playwright, and essayist, born in 1935 in Victoriaville, Quebec. She obtained her teaching certificate from the École normale Marguerite-Bourgeois, Sherbrooke in 1953, and taught at the primary and secondary level in Victoriaville until 1961. She also studied diction and dramatic art at the Conservatoire Lasalle, and created a series of programs on introductions to music and poetry for the local radio station. She then moved to Montreal, where she pursued a career in broadcasting and journalism.
Denise Boucher has been somewhat of a gadfly in Quebec culture, circulating in the rock music, poetry, political and theatrical circles. In her seminal feminist work, Cyprine: essai collage pour être une femme (1978), she incorporates prose, poetry, brief essays, and quotations to present her views on the challenges and joys of women undertaking new roles in modern society.
In 1978 the play for which she is most noted opened at the Théâtre du Nouveau Monde. Les Fées ont soif immediately stirred a huge controversy and massive protest by the Catholic church for its portrayal of the Virgin Mary as a symbol of women oppressed by the male patriarchy. Though some Catholics did everything they could to keep the show from going on (including picketing the theatre and reciting the rosary in the audience during the play), the work went on to several translations and productions in Quebec and abroad, and the published play went into three printings. The English version by Alan Brown is called The Fairies are Thirsty (Vancouver: Talonbooks, 1982).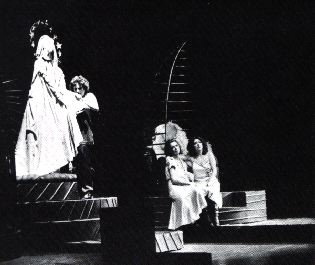 Denise Boucher's Les Divines was produced at Théâtre d'Aujourd'hui in 1996 to mixed reviews. It continues an exploration of feminism in its portrait of seven daughters who reunite in a ritual wake for an idealized mother. She has one other unproduced play: Jézabel.
Boucher has also written for television and rock opera (Rose Ross), and composed lyrics for popular songs. She was president of the Union des écrivains québécois from 1998-2000, and continues to be an activist in the promotion of Quebec literature.
Profile by Gaetan Charlebois.
Additional information from Barbara Mcewen: www.jrank.org/literature/pages/7457/Denise-Boucher.html.
Last updated 2011-01-21