Dussault, Louisette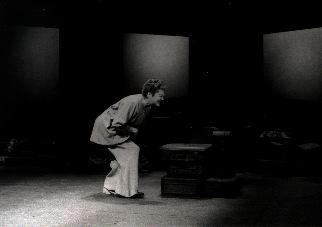 Quebec-based actor, playwright, director, and teacher, and past-president of the Conseil québécois du théâtre (1994-96). Louisette Dussault was born June 12, 1940 in Thetford-Mines. She graduated from the National Theatre School of Canada in 1964.
She co-founded and worked with Les Enfants de Chénier with Jean-Claude Germain from 1969 to 1972, participating in their work Grand Spectacle d'adieu, which bids farewell to the colonizing culture of France.
As well as acting in the works of Michel Tremblay and André Brassard (the first public reading of Les Belles-Soeurs, Lysistrata, Demain matin, Montréal m'attend, Mistero Buffo), she participated in three of the most important creations in Canadian feminist theatre: La Nef des sorcières , Les Fées ont soif, and her own monologue, Moman (1979), for which she is perhaps best known. She toured Moman internationally. It was revived at the Nouvelle Compagnie Théâtrale / Théâtre Denise-Pelletier (1997). She took it on one final tour in 2000. It was translated by Linda Gaboriau as Mommy, and is included in Anthology of Quebec Women's Plays in English Translation Vol I (1966-1986), ed. Louise H. Forsyth (Toronto: Playwrights Canada Press, 2006).
More recently she appeared in a Ionesco double-bill at Théâtre Denise-Pelletier (January, 2001).
She also wrote and performed in Pandora ou Mon p'tit papa, and has had a significant career in television and film.
Profile by Gaetan Charlebois. Additional information from Louise H. Forsyth.
Last updated 2011-01-27