Feminist Theatre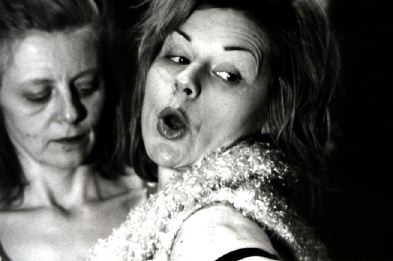 The brilliant revue
cum
spoken opera
Je ne sais plus qui je suis
(1998), conceived by
Brigitte Haentjens
Feminist approaches to theatre in Canada are as various as feminist ideologies, and might be dealt with on a company by company basis or even an artist by artist basis. Feminist theatre in Canada is as old as the movement itself, for as soon as there was dissent, there was theatre to mark its presence. Although a woman's dialectic wasn't initially represented by the formation of actual companies, women's concerns occurred early in alternative and experimental theatre in collective creation and works like Quebec's Théâtre Euh!'s Quand le Matriarcat fait des petits, a post-Quiet Revolution response to the position of women in society.
In 1968, the oldest company to be linked with feminism, Winnipeg's Nellie McClung Theatre, established one trend in women's theatre across the country: collective creation linked with experimentation with form. At the same time (1969-73), Beverley Simons' provocative absurdist drama Crabdance was being performed across the nation, giving new dramatic shape to feminist concerns as it treated concepts of ageing. In Toronto, Redlight Theatre was dedicated to the cause, while in Quebec the Théâtre Expérimental des Femmes was bringing stylistic rigour to productions. Nightwood Theatre still creates innovative and controversial productions (like their This Is For You, Anna) as they work with collective creation and texts.
Artists of the movement are now well known: Pol Pelletier, Ginette Noiseux, Ann-Marie MacDonald, and one of the most controversial of them all, Denise Boucher (whose work Les fées ont soif created a firestorm in Quebec).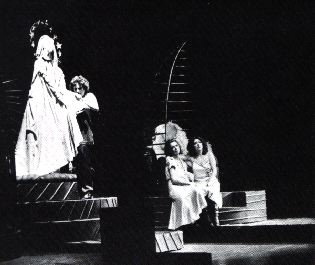 In concert with the rise of the Gay and Lesbian movement and the coming out of several writers were other approaches to women's issues and theatre. The works of Audrey Butler, Jovette Marchessault, and productions and co-productions (with, notably, Company of Sirens) at Buddies in Bad Times viewed feminist questions from this perspective. A seminal feminist work, La Nef des sorcières included two Lesbian stories.
It is important to note the strides women artists have made in Canada within the mainstream. In Montreal, during the 1990s, most of the mainstream theatres were helmed by women, many of them identifying themselves as feminists. The works of MacDonald, Pelletier and Marchessault, among others, are staged in mainstream houses. Also, festivals like Vancouver's Women in View (1988-1998) and 25th Street Theatre's Her-icane (1999-) appeared all over the country.
However, there is still much room for growth both outside and inside the movement. For instance, many women artists in Montreal contend that the 1990s was actually a period of unfulfilled promise (despite all the female ADs). Moreover, with the North American backlash trend to treat the very word "feminist" as a dirty one, some more radical feminist authors are finding voice only in the poorest of fringe theatres (like Montreal's The Other Theatre and the many basement and warehouse companies across the country) and in the Fringe Movement. Small companies, like the Toronto all-female collective, Urge, and Whitehorse's Women's Experimental Theatre/WET, have to carve a specialized niche for themselves (since 1993 Urge has presented fusionist/performance art; in 2001 WET presented its fusionist Still Life with Cello at Calgary's High Performance Rodeo).
And, as with the Gay and Lesbian movement (not to mention the mainstream), many producing companies acknowledge the lack of voices from the peoples of colour and are actively courting such artists.
Breakaway works do come around once in awhile, such as Gloria Montero's glorious Frida K..
Commentary by Gaetan Charlebois. Additional information provided by Beata Van Berkom.
Last updated 2020-12-02