Magny, Michèle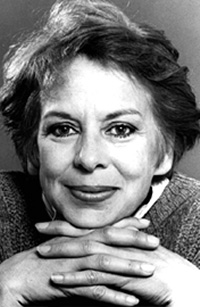 Michèle Magny
Photo by Robert Laliberté
Montreal Quebec-based actor/director/playwright/translator, born in 1944. She graduated from the National Theatre School of Canada in 1968.
Among the works she has directed are Célimène et le cardinal (a hit for the Café de la Place des Arts and subsequently televised), Le Pain dur, Sarah et le cri de la langouste/Memoir by John Murrell (1986), and Jovette Marchessault's Anaïs dans la queue de la comète (1985).
Her play, Marina, le dernier rose au joues premiered at Théâtre d'Aujourd'hui (1993, dir. Martine Beaulne), starring Élise Guilbeault. It was published by Actes Sud/Leméac and nominated for a Governor General's Award in 1995. Translated by Linda Gaboriau as Marina, the Blush of Life, it was published by Playwrights Canada Press in 2008 in Anthology of Québec Women's Plays in English Translation, Volume II (1987-2003), edited by Louise H. Forsyth (Toronto: Playwrights Canada Press, 2006). The play portrays Russian author, Marina Tsvetaeva (1892-1941) as wholly committed to her art, in defiance of politics and history -- returning to Moscow from Paris in 1939, with flashbacks to 1917 as she remembers the terrible hardships of the Revolution, and lost friends and family. Like Jovette Marchessault, Magny has "creatively [written] women into literary history and affirm[ed] women's right to be recognized as creators and seekers after knowledge for themselves and all of humanity" (Forsyth, p. 55).
Her second play, Un carré de ciel (Théâtre d'Aujourd'hui, 2004, dir. Martine Beaulne) portrays the life of Quebec writer, Jacques Ferron.
Michèle Magny has also written two plays for Radio-Canada: La plume et le scalpel and Histoire de gare et d'amour.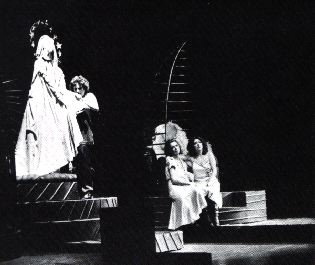 As a performer Magny is well-known throughout the province, having appeared in dozens of productions including La Nef des sorcières (the first feminist play commissioned by Le Théâtre du Nouveau Monde in 1976); Michel Tremblay's Bonjour, là, bonjour; Anne Legault's O'Neill; Tom Stoppard's La vérité des choses/The Real Thing, and the original - and explosively controversial - production of Denise Boucher's Les Fées ont soif.
Profile by Gaetan Charlebois. Additional information from Louise H. Forsyth.
Last updated 2020-07-17