Butler, Audrey/Alec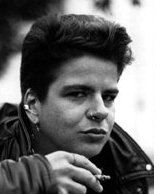 Audrey Butler before she became Alec Butler in 1999
Playwright born on Cape Breton Island, Nova Scotia, of Mi'kmaq and French/Irish descent. She/he began her life as a woman (Audrey Butler) but in 1999 completed gender reassignment and changed her first name to Alec.
Butler is co-artistic director of Temperamental Journey, a playwright-centred company devoted to creating provocative and entertaining theatre in the spirit of social change and artistic excellence.
The Globe and Mail has called Audrey Butler a "lesbian [sic] punk iconoclast."
He has had many of his plays published in journals. His work Radical Perversions: 2 Dyke Plays, was published in 1990 by Women's Press. He was also a finalist for the Governor Generalís Award 1990 for Black Friday?.
Plays include: Black Friday? (premiered at Dangerous Dreamers, Sydney, Nova Scotia, 1994, directed by Bryden MacDonald); Hardcore Memories (Women in View, Vancouver, British Columbia, 1993, directed by the author); Claposis (Fringe of Toronto Festival, 1990, directed by the author).
Profile by Gaetan Charlebois. Additional information provided by Anton Wagner.
Last updated 2020-06-03