Frida K.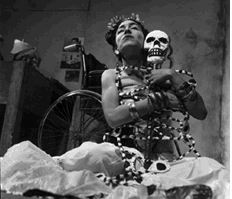 Allegra Fulton as Frida K.
Monologue in one long act by Gloria Montero, first performed at the Toronto Fringe Festival in 1994; subsequently reworked and performed at Tarragon Theatre (1995), the National Arts Centre and the Citadel Theatre (2007). It was written for Montero's daughter, Allegra Fulton, who played the flamboyant Mexican artist Frida Kahlo, and was directed by Peter Hinton, with sets and costumes by Ken Garnhum, and lighting by Bonnie Beecher. The play was subsequently translated into Spanish, and performed in Madrid and Barcelona.
Frida K. may prove to be a work seminal in post-feminist theatre as it veers away from many trends of early feminist theatre (victimization, wariness of men, strong Lesbian through-lines) and presents a whole person - rather than a message - who also happens to be a fascinating figure in art history. It succeeds on about a dozen levels; not simply as a cogitation on womanhood, but as a magnificent journey through the world of art, a discussion of Third and First World values and culture and as an anomalous love story (Kahlo was married to muralist Diego Rivera).
Even the staging Montero suggests is complex and evocative, so that here we have a finished play; not a work-in-progress, not a Fringe Fest monologue, not a too-intimate (and therefore incomprehensible) spoken word diatribe.
Kahlo merely talks, but the possibilities for staging - beyond what Montero suggests - are endless, especially given the interest in Kahlo's wonderfully weird and wildly illustrated diaries.
In her program note for the Citadel production, Montero explains she was attracted to Frida's dualities, as a child of the New World, but inextricably linked to Europe through her German Jewish Father: "As I learned more about Frida I found her dualities to be manifold: the extraordinary beauty imposed on the deformed body; the tremendous vitality that withstood the constant pain and operations; the brutal honesty that made itself felt even when she resorted to duplicity to get what she wanted; the overt sexual duality that refused to recognize limits; the intelligence and courage which ... were to determine the icon she would become. ... Vulnerable and provocative, Frida is a classic modern heroine. The myth she fabricated out of the tragedy of her life holds its own beside those of Medea, Antigone and Electra of ancient times."
For her extraordinary performance as Frida, Allegra Fulton won a Dora Mavor Moore Award. The play was also nominated for a Chalmers Award.
Commentary by Gaetan Charlebois
Last updated 2013-03-08