Monologue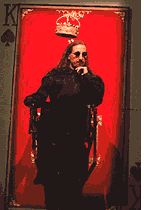 Robert Lepage in Elsinore, 1996
Where there are fiscal restraints in the arts, there will be monologue theatre, or one-man/woman-shows, or solos, or mono-drama, as Maxim Mazumdar, a specialist in the field referred to them. Critics of the form would also suggest that where there are outsized egos, monologues will always be necessary to house them.
Canada's theatre history includes a wide array of monologues and not all of them are the consequences of tiny budgets. For example, Robert Lepage's solos Aiguilles et opium and Elsinore (1996) are certainly not characterized by smallness.
From the earliest history of professional theatre in Canada, monologues have been performed. Mark Twain and Charles Dickens both toured to Canada to present their stories. But because of the ticket price to production size ratio, monologues were rarely seen by audiences (or critics) as a good theatre bargain unless they were fronted by truly international stars. However, with the arts funding cutbacks during the recession of the 1970s, monologues became virtually a fiscal necessity for even the larger houses. Indeed, many monologues toured the nation. But they varied, needless to say, in power and gave rise to a debate about whether they even qualified as theatre. The appreciation of a particular monologue was often based on a spectator's or critic's personal opinions on the form itself.
Despite this, some monologues rose above the pack. Maxim Mazumdar began the life of his Oscar Remembered in 1974, performing it in Montreal and then on international tour. He followed this with two other monologues along Gay themes, Rimbaud and Dance for Gods.
In 1978, Richard Monette turned in a monumental performance in the drama Judgement at the Stratford Festival. Soon after, Eric Donkin began touring his hilarious Wonderful World of Sarah Binks and Louisette Dussault was performing in her Moman.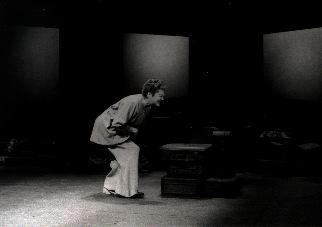 In 1980, the monologue form received special attention with the creation of Maggie and Pierre by Linda Griffiths and Paul Thompson. Deep in recession, many companies booked the work, and the novelty of the piece, and the tour de force performance by Griffiths as three characters -- Maggie, Pierre, and a newspaper reporter -- proved attractive to audiences across Canada. Billy Bishop Goes to War has also been very popular, and it has been revived several times since its premier in 1982 and international tour. Though not a true monologue (because of the musician on stage who occasionally participates in the action), it brought the form a respectability that was waning (simply from the deluge of bad works that were playing every theatrical nook and cranny).
Though the form doesn't appear often on main stages, it is common at Fringe festivals, and monologues do still visit Canadian theatres as works from outside the country; for example, Dublin's Abbey Theatre production of Mother of all the Behans which played the Centaur Theatre in 1990, or the various productions across the country of American Jane Wagner's The Search for Signs of Intelligent Life in the Universe. There is also Ugandan George Seremba's Come Good Rain, which he toured across Canada.
The longest-running and most beloved monologue is probably Antonine Maillet's La Sagouine, which began its life in Acadia and was subsequently performed in French and English across the country and on television by actors Viola Léger and Joan Orenstein. Perhaps it is successful because it is simply a character addressing the audience directly about common experiences, thoughts, feelings. Or perhaps it is successful because it isn't a history or literature lesson (like some works about Stephen Leacock), an egotist's dream vehicle, or an imaginatively and well as financially impoverished vehicle.
Other significant monologues include Guillermo Verdecchia's very personal Fronteras Americanas, Daniel MacIvor's high-flying gem, Monster, Chris Craddock's Moving Along(performed in the basement of an Edmonton home), the works of Sandra Shamas, and Mark Leiren-Young's brilliant and prickly Shylock. Of special note is Gloria Montero's magnificent consideration of the life of Frida Kahlo, Frida K.
Commentary by Gaetan Charlebois. Additional information provided by Anne Nothof.
Last updated 2018-07-22