Maillet, Antonine
Playwright/translator born in Bouctouche, New Brunswick, May 10, 1929. She studied at University of Moncton (B.A., M.A.), Université de Montréal, and at Laval University (Ph.D.) in Quebec City. Since the success of her play, La Sagouine, her name has dominated contemporary Acadian letters, but it was with the Prix Goncourt, one of the most prestigious prizes in French-language literature, for her novel Pélagie-La-Charette (1979) that Antonine Maillet was catapulted into international celebrity.
Maillet is a companion of the order of Canada, and the recipient of thirty honorary doctorates. She was uniquely honoured by the city of Outremont, Quebec, which named the street where she lives after her.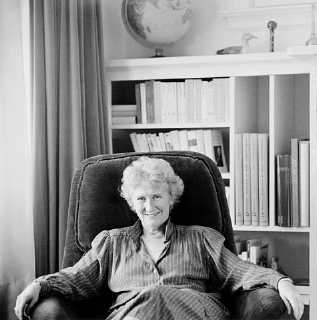 Antonine Maillet (12 Dec. 1984 Harry Palmer/National Archives of Canada/PA-182393)
Her plays are simple in structure but rich and surprising in language. The characters are rural-savvy and reflect the accumulated wisdom and humour of four centuries of difficult Acadian life. They include: Les Crasseux (Compagnie Jean-Duceppe, 1974), La Contrebandière (Théâtre du Rideau Vert, 1974), Évangeline Deusse (Rideau Vert, 1976), Gapi (Rideau Vert, 1976), La veuve enragée (Rideau Vert, 1977), Le Bourgeois gentleman (Rideau Vert, 1978), Emmanuel à Joseph à Davit (Rideau Vert, 1979), La Joyeuse criée (Rideau Vert, 1982), Garrochés en paradis (Rideau Vert, 1986), Margot la folle (Rideau Vert, 1987); Le Tintamare (Rideau Vert, 1999). Translations include: Tom Jones' and Harvey Schmidt's The Fantastiks as Les Fantastiques (Rideau Vert, 1988), Willy Russel's Shirley Valentine as Valentine (Rideau Vert, 1990), Shakespeare's Richard III (Rideau Vert, 1989), Ben Jonson's Bartholomew Fair as La foire de St-Bartholomé (Rideau Vert, 1994), Hamlet (Rideau Vert, 1999), George Bernard Shaw's Pygmalion (Rideau Vert, 1999) and David French's Salt-Water Moon as Une Lune d'eau salée (Cercle Molière, 1999).
Profile by Gaetan Charlebois.
Last updated 2021-12-08