Cercle Molière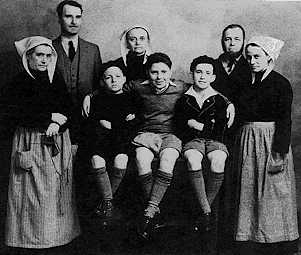 Archival photo (courtesy of Cercle Molière); Arthur Boutal (rear, left), Pauline Boutal (left) and Gabrielle Roy (right) in Les soeurs Guédonec
Amateur theatre society founded in St-Boniface, Manitoba in 1925 by André Castelein de la Lande (the company's first Artistic Director), Louis-Philippe Gagnon and Raymond Bernier. The company's first production was Le monde où on s'ennuie, a nineteenth century French comedy. Arthur Boutal took over the artistic directorship from 1926-1940, most notably mounting the North American premiere of L'Arlésienne by Alphonse Daudet, and winning an award for best play in French at the Dominion Drama Festival for his production of Blanchette by Eugene Brieux in 1933. After his death in 1941, his daughter, Pauline was Artistic Director for twenty-six years. In 1967, Roland Mahé became Artistic Director. He retired in 2012 after 115 productions and 44 years of service to Le Cercle Molière and to French-language theatre in Canada. The current AD is Geneviève Pelletier.
Le Cercle Molière is the oldest ongoing French-language amateur theatre in Canada. In 1961 it began producing French-Canadian plays, such as Marcel Dubé's Chambre a Louer, and works by Michel Tremblay (Les Belles-soeurs 1970, Jean Barbeau, Gratien Gélinas, and Roland Lepage. It continues to present two or three major works and several short ones each season, including works by Manitoban writers as well as works from the classical repertory including those, of course, of Molière.
It also presents English Canadian plays in translation, including Morris Panych's Seven Stories (1998). In autumn of 1999, it presented Antonine Maillet's translation of David French's Salt-Water Moon and subsequently toured the production. The company has toured productions to Ottawa and in western Canada, and co-produces plays with other Francophone theatres in Canada, including UniThéâtre, as well as hosting productions from Quebec.
Le Cercle Molière celebrated its 75th anniversary in April, 2000, with a gala at the Pantages Playhouse and with a season of work exclusively by Manitoba writers.
Le Cercle Molière also has a young people's company: Théâtre du Grand Cercle. In 1970 it founded the Festival Théâtre Jeunesse in which francophone teens from Manitoba and the western Canadian provinces perform original plays in French.
From 1974 to 1997, productions were mounted in La Salle Pauline-Boutal in le Centre culturel franco-manitobain, and from 1997 to 2010 in the tiny Théâtre de la Chapelle, both in Saint-Boniface. The new Théâtre Cercle Molière, which opened in 2010, is located in Winnipeg, with two theatre spaces, seating 145 and 110.
Website: www.cerclemoliere.com
Last updated 2020-01-14