Oscar Remembered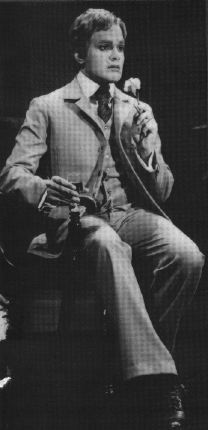 Mazumdar in Oscar Remembered
Monologue by Maxim Mazumdar, premiered at Phoenix Theatre, Montreal, Quebec, in 1974, starring Mazumdar. In 1975, Mr. Mazumdar performed it at the Quebec Drama Festival where William Hutt was adjudicating. It subsequently was invited to the Stratford Festival. It was then performed by the author across the country and world-wide virtually until Mr. Mazumdar's premature death. It was revived at the Stratford Festival, 2000, directed by William Hutt and featuring Michael Therriault.
Lord Alfred Douglas reflects on his love affair with, and his betrayal of, Oscar Wilde. In the process he describes his life and Wilde's and recites passages from Wilde's works including the entirety of The Ballad of Reading Gaol.
Mazumdar took advantage of the tidal wave of monologues that were inhabiting Canadian theatres at the time, but did so in his own inimitable way, skirting the edges of his own homosexuality as he performed this, the first of his series of Gay-themed monologues (which included Rimbaud and Dance For Gods).
The work is a flashy performer's piece that deserves a second look.
It was generally well received by the press. The Montreal Gazette wrote, "Although the play is moving, it is immensely entertaining. Wilde's whole life was brightness and wit, and this is interwoven with the sadness and pain." The Southam chain wrote, "A powerful mood piece...touching but unsentimental."
Readings: Maxim Mazumdar. Oscar Remembered. Toronto: Personal Library, 1977.
Source: Pat Donnelly. "Wilde things at Stratford", The Montreal Gazette, 16 Sept 2000.
Last updated 2009-05-05