Shamas, Sandra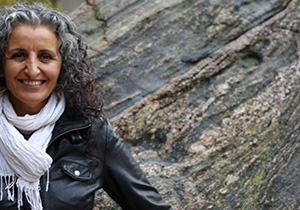 Sandra Shamas
Playwright, producer, and comedienne, born in Sudbury, Ontario in 1957, to Middle-Eastern parents. She has created and performed seven hilarious and witty monologues based on her life experiences.
Sandra Shamas studied improvisation at Second City in 1982, and joined its touring company to 1984. She came to national attention in 1987 with the Edmonton Fringe Movement performance of My Boyfriend's Back and There's Going to Be Laundry.
Among her other works are: The Cycle Continues, Wedding Bell Hell (published under the title: My Boyfriend's Back and There's Going to Be Laundry and subsequently nominated for the Stephen Leacock Award and the Governor General's Award); and Wit's End's (1998). The Big "What Now?" opened at the Harbourfront Centre theatre in early 2017, in which Shamas reflects on turning 50, and resists the stereotypes of ageing.
She has toured across the country and to the US and Great Britain with her works.
John Coulbourn from The Toronto Sun wrote of Wit's End, which deals with her divorce, "There's real pain here, of the searing, avert your eyes variety. But there is also real humour, thanks to Shamas' impressive skills as a comedienne... "
About the process she uses to create her works, Shamas has said, "...the way I cull information out of my life is, when I look back on my life, those memories that are the strongest, those are the things I put into the show. People in my life will say, 'If I show up in your show...' And I'll say, 'Well, you're very nice, but you're not fascinating.'"
In January 2018, Shamas was appointed to the Order of Ontario. She lives on a farm in Ontario.
Website: www.sandrashamas.com
Source: Paul Matwychuk. "A funny thing happened on the way to the farm," Vue, Edmonton, 21 Sept 2000.
Profile by Gaetan Charlebois
Last updated 2020-07-17