Picard, Luc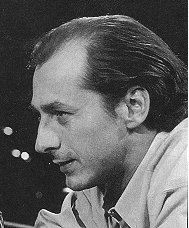 Luc Picard
Quebec-based actor born in Lachine, Quebec, in 1961, who has worked in television, radio, cinema and theatre.
Since graduating from the Conservatoire d'art dramatique de Montréal in 1988, he has played several lead roles with the country's top directors including in works at the Théâtre de Quat'Sous (Elvire Jouvet 40 directed by Françoise Faucher, L'Éveil du Printemps/Spring Awakenings, René Richard Cyr, Jean-François Caron's J'Ecrirais bientôt une pièce sur les nègres, Claude Poissant, Jeanne-Mance Delisle'sUn oiseau vivant dans la gueule, Brigitte Haentjens, Les Lettres de la religieuse portugaise, Denys Arcand, Traces d'étoiles/Brilliant Traces, Pierre Bernard and La Compagnie des hommes, Lorraine Pintal), as well as at Espace Go (Triomphe de l'amour, Poissant), Nouvelle Compagnie Théâtrale / Théâtre Denise-Pelletier (Caligula, Haentjens), the Théâtre du Nouveau Monde (Le Misanthrope, Le prince travesti, Poissant) and Théâtre du Rideau Vert (Mlle Julie/Miss Julie, Denise Filiatrault and his third time opposite Sylvie Drapeau; the others being Traces d'étoiles and Elvire Jouvet 40).
More recently he appeared in the Nouvelle Compagnie Théâtrale / Théâtre Denise-Pelletier production of de Musset's Lorenzaccio (March, 1999) and the Espace Go production of Jean-Luc Lagarce's Juste la find du monde (January, 2002).
Last updated 2014-09-03