First Nations Theatre
Indian ritual "theatre" (National Archives)
Dramatic ritual has been an important aspect of First Nations ceremonies for centuries before European contact in North America. It involved costumes, masks, dance, and song – fusing myth and reality, and re-enacting the past in the present. During the colonial period, First Nations ceremony, ritual, and language was repressed: some ceremonies, such as the potlatch in British Columbia, and the Sun Dance on the Prairies, went underground, and others evolved into forms that circumvented the authorities. The dramatic religious rituals and symbols of the Christian tradition were also absorbed and/or challenged in First Nations dramatic practice, as is evident in Tomson Highway's plays.
By the 1960s, First Nations voices were heard in theatre primarily as interpreted by non-Native playwrights: Sitting Bull in Sharon Pollock's Walsh; Rita Joe, David Joe, and Jaimie Paul in George Ryga's The Ecstasy of Rita Joe; the doomed Indigenous women in Gwen Pharis Ringwood's tragic trilogy, The Drum Song.
With the establishment of Native Earth Performing Arts in Toronto in 1982, however, theatre provided a site for Indigenous people who had been silenced by the weight of cultural censorship, racism, and the institutional oppression of residential schools to speak, and to be heard.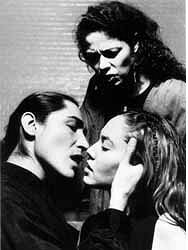 Ravens
by Joyce B. Joe at
Native Earth Performing Arts
with Bill Merasty, Sandra Larond (top), and Christie O'Leary,
directed by Gary Farmer, 1996
(Photo: Larry Gus)
In 1981, Shirley Cheechoo established De-ba-jeh-mu-jig Theatre at Wikwemikong Unceded Indian Reserve on Manitoulin Island in Ontario to develop and perform works which expressed the cultural heritage and language of the Ojibway people, and provide training and workshops for theatre artists, including Highway and Drew Haydon Taylor.
In the Yukon, Nakai Theatre Ensemble produces theatre from the T'lingit, Tuchone, and Gwichin peoples; and in Quebec, the Mikisiw company reflects the culture of the Atikamekw community. In January 2000, Crazy Horse Theatre in Calgary launched with Drew Hayden Taylor's Only Drunks and Children Tell the Truth.
Many contemporary First Nations plays are message-centred, with a comic streak, even when dealing with painful subjects: laughter is a healing strategy. Many are collective creations – developed and performed by community groups, sometimes with the collaboration of non-Indigenous directors and technicians, although increasingly, Indigenous directors such as Yvette Nolan and Jani Lauzon are helming productions in major theatres across the country. Canadian First Nations plays are now performed internationally: the satirical comedies of Drew Haydon Taylor, for example (Bootlegger Blues, alterNatives, The Buz' Gem Blues) are popular in the United States and Germany.
Other Métis playwights include Daniel David Moses, whose trickster characters in his "city plays" in the 1980s and 1990s challenged white stereotyping of indigeneity. Ian Ross's tragi-comic consideration of the welfare trap, fareWel, won the Governor General's Award in 1997 and was staged by Ken Gass at the Factory Theatre in 1999. The works of Cree playwright, Kenneth T. Williams (Thunderstick, Theatre Network 2010), and N'lakap'mux playwright Kevin Loring (Where the Blood Mixes, Factory Theatre 2008), a consideration of the traumatic generational consequences of residential school, have been performed across Canada.
Maria Campbell's Jessica (with Linda Griffiths), Margo Kane's Moonlodge, and Monique Mojica's Princess Pocahontas and the Blue Spots perform the struggle towards Native selfhood from the perspective of women. The plays of Marie Clements consider the desperate lives of Native women in Vancouver's East End in The Unnatural and Accidental Women (1997), the globalization of atomic warfare in Burning Vision, and the struggles and triumphs of Mohawk artist, Norval Morrisseau in Copper Thunderbird (Magnetic North Festival, Ottawa 2007).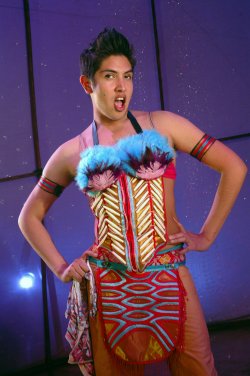 Waawaate Fobister in Agokwe
Agokwe (meaning "two-spirited"), written and performed by Anishnaabe artist Waswaate Fobister, opened at Buddies in Bad Times in 2008, in a co-production with National Arts Centre, winning six Dora Mavor Moore Awards. It shows the radical difference between traditional First Nations and contemporary society's attitudes to homosexuality through the relationship between two young men -- a grass dancer and a hockey player, with a bi-sexual Nanabush providing choric commentary.
Mainstream theatres across Canada are now producing works by First Nations authors, with First Nations actors and directors. For example, Theatre Calgary's 2018/19 season included the premiere of Honour Beat by Tara Beagan, with Monique Mojica as a daughter visiting her dying mother and reconnecting with her family history. In March 2017, the Citadel Theatre hosted a production of Children of God by Corey Payette, a musical about the trauma of residential school which was co-produced by urban ink productions and Raven Theatre, and developed at Western Canada Theatre Company. In November 2018, the Citadel hosted Redpatch by Raes Calvert and Sean Harris Oliver on the Maclab thrust stage, presented in partnership with Arts Club Theatre and Hardline Productions. The story was inspired by the extraordinary sacrifices made by First Nations and Metis soldiers during WWI. A cast of six Indigenous actors played soldiers, with Odessa Shuquaya as Raven, Grandmother, and a Scotts sergeant in a visceral, powerful production.
Readings: Aboriginal Drama and Theatre. Ed. Rob Appleford. Toronto: Playwrights, 2005.
Profile by Gaetan Charlebois and Anne Nothof
Last updated 2020-07-25