Nakai Theatre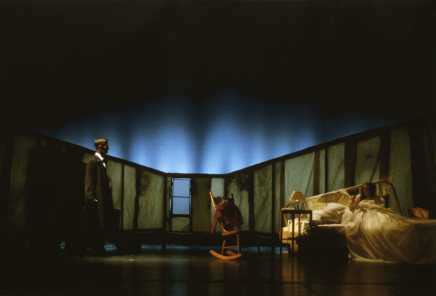 Nakai Theatre's October, 2000, production of
Morris Panych
's
Vigil
with Brian Fiddler and Bronwyn Jones, designed by David Skelton, directed by Michael Clark
Company founded in 1979 in Whitehorse as Nakai Players by Sheila Langston and Beth Mulloy, to tour plays to Yukon Communities, with an emphasis on plays by and about the First Nations. In 1989 the company merged with Separate Reality to become Nakai Theatre Ensemble. The Artistic Director from then to 1995 was Dawn Davies. From that point, it also began to focus more of its activities on Whitehorse.
Nakai began providing developmental opportunities to Yukon theatre practitioners, particularly for youth and First Nations artists. In 1986 it created the 24 Hour Playwriting Competition, the first of its kind in Canada. In 1996, it launched its first New Theatre North Playwrights' Festival, in which senior Canadian playwrights and dramaturgs were brought in to work with local playwrights.
Since 2008, Nakai has produced Pivot Theatre Festival, Whitehorse's contribution to Western Canada's edgy winter performance culture, producing its own new works, and hosting productions from across Canada, including Vancouver's PuSh International Performing Arts Festival, Edmonton's Canoe Festival (Workshop West Theatre), and Calgary's High Performance Rodeo (One Yellow Rabbit). The 2014 festival featured Huff by Cliff Cardinal, son of actor Tantoo Cardinal, Blue Box by Carmen Aguirre (Nightswimming Theatre Company/Neworld Theatre), and How to Disappear Completely by Itai Erdal (The Chop Theatre).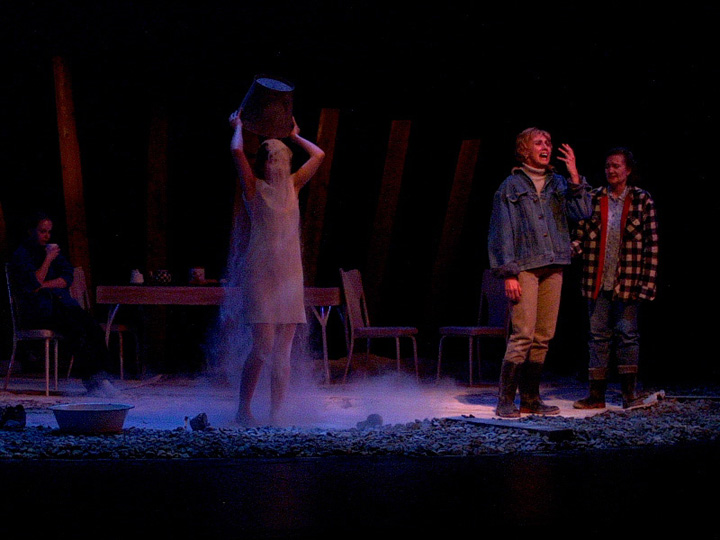 Perfect Pie
by Judith Thompson
(L.to R. Amber Borotsik, Jamie Lee Shebelski, Mary Sloan,
Sally Clark
Design by David Skelton
Photo by Michael Clark
Other Artistic Directors have included Philip Adams (1995-98), Michael Clark, and David Skelton. After designing nine shows for Nakai, Skelton won the competition to become its sixth Artistic Director. His first show was Mitch Miyagawa's Carnaval. Jacob Zimmer is the current Artistic Director.
Among the works presented by Nakai are The Occupation of Heather Rose by Wendy Lill, Love You Forever and other stories by Robert Munsch, Running on Frozen Air by Gordon McCall, Vigil by Morris Panych, 60 Below by Patti Flather and Leonard Linklater, Speak by Greg Nelson (1999), Perfect Pie by Judith Thompson, and So Many Doors by Celia McBride in a co-production with Sour Brides Theatre (2007, dir. Kelly Thornton).
Web site: www.nakaitheatre.com
Last updated 2021-06-22