Aguirre, Carmen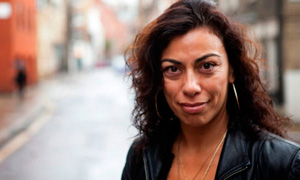 Carmen Aguirre
Actor, playwright, director, and non-fiction writer, born in Valdivia, Chile in 1967, and based in Vancouver British Columbia. In 1973, her family came as exiles to Canada after Pinochet's military coup in Chile, but returned in 1979 to join the Chilean revolutionary movement. At the age of 22, she again escaped to Canada. In her memoir Something Fierce: Memoirs of a Revolutionary Daughter (Douglas & McIntyre, 2011), she writes about her harrowing experiences in Chile, her early years in Canada, and her angst as an exile. Something Fierce won the 2012 CBC Canada Reads contest. The sequel, Mexican Hooker #1: And My Other Roles Since the Revolution was published in 2016.
Aguirre studied theatre at Studio 58 at Langara College, Vancouver, and since then has appeared in over eighty roles on film, television and stage. She has performed in most Vancouver theatres and across Canada, including Alberta Theatre Projects (The Clean House 2006, and The Motherf**ker with the Hat 2013).
She has written and co-written over 25 plays. These are typically politically-charged and autobiographical, dealing with social injustice and violence against women. When she graduated from theatre school, she realized that there were few roles for Latina women, but inspired by Guillermo Verdecchia's Fronteras Americanas, she undertook to write her own stories for the theatre. In Chile Con Carne (Tarragon Theatre Extra Space 1999, dir. Verdecchia and starring Marilo Nuñez), eight-year-old Manuelita is determined to save her favorite tree. Inspired by her parents' recent experience as political refugees from Chile, she recruits her new friends from school to campaign with her. "A dark comedy set in Vancouver in 1975, Chile Con Carne paints a portrait of childhood innocence stained by political upheaval, juxtaposed with blonde Barbie dolls, disco dancing lessons and the struggle to fit in." (Alameda Theatre website). It was remounted by Alameda Theatre Company at Factory Studio Theatre in 2013, directed by Nuñez.
In The Trigger (Touchstone Theatre 2005), the victim of a rape at the age of 13 works through her trauma with intelligence and dignity, and concludes that her suffering cannot compare to the atrocities perpetuated against innocent people in Chile during Pinochet's regime. Jerry Wasserman has described the play as "a knockout, intelligent, powerful, funny, horrific, theatrically stunning" and "utterly free of victimology" (vancouverplays.com). The play is based on her rape by the "paper-bag rapist", who attacked 170 women before he was apprehended.
In The Refugee Hotel (2008), set in 1974, eight Chilean refugees in a run-down Vancouver hotel recount their stories of anguish and hope, and their feelings of desertion and survivor guilt. Aguirre withdrew her play from its Factory Theatre premiere in 2003, accusing director Ken Gass of ''insensitively'' in casting white actors non-white roles. Its world premiere was by Alameda Theatre Company at Theatre Passe Muraille in 2009 (dir. Aguirre). The actors and designers were Colombian, Mexican, Chilean, Israeli, Venezuelan, Serbian, Italian and First Nations, speaking to the show's relevance to many immigrants' experience in Canada.
Her one-woman show Blue Box (Nightswimming Theatre Company and Neworld Theatre 2012) began a cross-country tour at Ottawa Undercurrents Festival. In parallel narratives, it evokes terrifying experiences in revolutionary Chile, and an ardent love affair with a TV star in Hollywood. The ghost of the protagonist's grandmother reminds her of her history and her fortitude when her personal life is in shambles. "The play pivots on the fascinating contradictory impulses in this one person: the selfishness of sexual passion versus the selflessness of passionate revolutionary commitment" (Vancouver Province).
Anywhere but Here was produced at the Vancouver Fringe Festival by Ruby Slippers Theatre as past of its Advance Theatre: New Works by Women initiative (directed by Anita Rochon). "A darkly comic, magic realist play that centres around the quest for home. A family of four Chilean refugees drive a mint condition, hot pink 1950s convertible through the Arizona desert, en route to Chile, which according to the father, is paradise" (Ruby Slippers website).
Her solo show, Broken Tailbone premiered at Factory Theatre in October 2019. Drawn from her personal experiences dancing the salsa in Canada's Latinx dance halls, it is a story of intimacy, politics, and culture.
Carmen Aguirre's plays are published by Talonbooks.
She teaches at the Vancouver Film School and has been playwright-in-residence at the Vancouver Playhouse (2000-02), Touchstone Theatre (2004) and Belfy Theatre. As the founder and director of The Latino Theatre Group, she has facilitated workshops for Theatre of the Oppressed. She is a core artist of Vancouver's Electric Company Theatre.
Her work has been nominated for a Dora Mavor Moore Award (The Refugee Hotel), four Jessie Richardson Awards, and the Siminovitch Prize in Theatre.
She is the recipient of the 2002 Playwrights Theatre Centre's Best New Play Award, the 2011 Union of B.C. Performers' Lorena Gale Woman of Distinction Award, and Langara College's 2012 Outstanding Alumni Award.
Profile by Anne Nothof, Athabasca University
Last updated 2019-09-08