Touchstone Theatre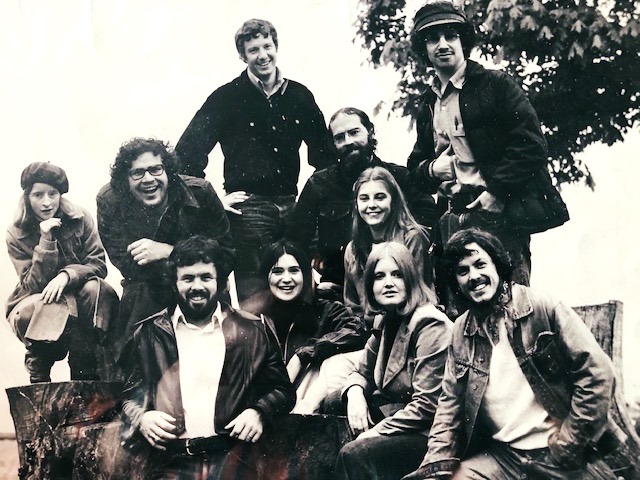 Touchstone founders. From the top left to right - Ian Fenwick, Eric Epstein, Vicki McCullough, Hilmi Mohammed, Tony Dawason, Kathy Boucher, Sidonie Boll, Gordon McCall, Susanna Puttonen, Jon Loptson.
Company in Vancouver, British Columbia, founded in 1975 by Gordon McCall and Ian Fenwick from the MFA Directing program at the University of British Columbia, and students or recent graduates of the undergrad theatre program. The name, Touchstone, was inspired by the character in Shakespeare's As You Like It, by the Fool's coat of motley, and the Fool's wit and insight into the human condition in all of Shakespeare's plays. For the founding group, the literal meaning of "touchstone" as a gauge of behaviour was appropriate for a theatre that interpreted the human condition.
The first production was Bertolt Brecht's The Exception and The Rule. Since 1981, Touchstone Theatre's focus has primarily been on the development and production of professional Canadian works that explore new forms and content. Its repertoire has included collective creation by the company, and important second productions of Canadian plays. Since its inception, Touchstone has premiered thirty-six Canadian plays, and produced forty-two works by Canadian playwrights. Touchstone also co-produces works with other Vancouver theatres.
Touchstone supports a playwright-in-residence, and co-founded the PuSh International Performing Arts Festival with the Electric Company Theatre in Vancouver.
Among the Canadian playwrights whose works have been produced by Touchstone are Judith Thompson (The Crackwalker, Palace of the End); Michel Tremblay (Hosanna); Michel Marc Bouchard (Les Muses orphelines/The Orphan Muses and Les Feluettes/Lilies)); Jason Sherman (It's All True); Linda Griffiths (Alien Creature and Age of Arousal); Daniel MacIvor (How it Works); Kevin Kerr (Unity (1918)); Anusree Roy (Brothel #9); Jordan Tannahill (Concord Floral); Amy Lee Lavoie (C'Mon Angie 2018); and Brad Fraser (Kill Me Now 2018). In March 2022, Touchstone premiered Ominous Sounds at the River Crossing by Jason Sherman.
The first Artistic Director was Gordon McCall, followed by Ian Fenwick, John Cooper, and Roy Surette (1985-97). From 1997 to 2017 the Artistic Director was Katrina Dunn. In July 2017, Roy Surette returned as AD.
In 2009 the Company relocated from its performance space at the Vancouver East Cultural Centre to an office on Hamilton Street, and its performance venues vary with each production.
Touchstone Theatre is funded by the three levels of government as well as by private and commercial donations.
Website: www.touchstonetheatre.com
Profile by Anne Nothof. Additional information by Gordon McCall.
Last updated 2022-02-08