Surette, Roy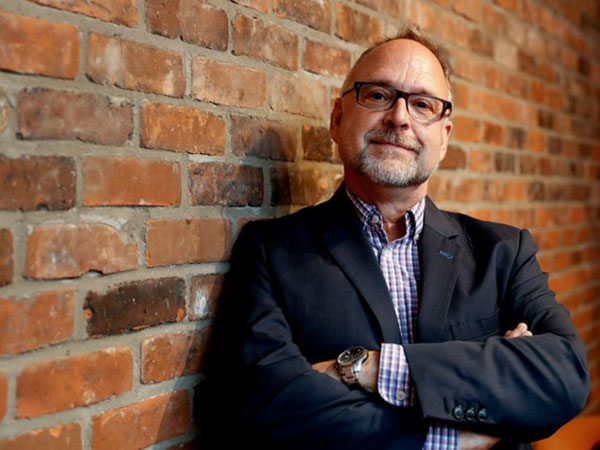 Roy Surette. Photo by Allen McInnis, Montreal Gazette 15 Sept 2016
Director, born in 1957, and grew up in Vancouver. His career has been primarily in British Columbia. He graduated from Studio 58 in Vancouver, and worked as an actor, independent producer, and founder of Burnaby Summer Theatre.
He was AD at Touchstone Theatre from 1985 to 1997, and Associate Director for Western Canada Theatre Company before that.
From 1997 to 2007 Surette ws AD at Belfry Theatre. At Belfry he directed Terrence McNally's A Perfect Ganesh, Steve Martin's Picasso at the Lapin Agile, Jason Sherman's Patience, Michel Marc Bouchard's The Coronation Voyage (2000), Michael Healey's The Drawer Boy (2001); Aaron Bushkowsky's One Last Kiss (2004); Rachel Wyatt's Knock, Knock (2004); Carol Shields' adaptation of her novel, Unless (2005); and Joan MacLeod's Homechild (September 2007) among others.
His over ninety direction credits also include Bernard Shaw's Overruled (Shaw Festival); Peter Pan (Manitoba Theatre for Young People); a national tour of Shirley Valentine, starring Nicola Cavendish; The Number 14, which he co-created and which has enjoyed over 1000 productions across the country and abroad; and Flying Blind, a collective creation produced by four companies that has played in Victoria, Vancouver, Calgary and in Australia.
In October 2012, he returned to Vancouver to direct Daniel MacIvorís Communion for Ruby Slippers Theatre's 25th anniversary season.
Surette was appointed Artistic and Executive Director of Centaur Theatre from November 2007 until the summer of 2017. His directing credits for Centaur include The Madonna Painter by Michel Marc Bouchard, and Innocence Lost: A Play About Stephen Truscott by Beverley Cooper. He also focused more on diversity: in 2015 and 2016, the Centaur won the 50/50 Applause Award for producing the work of female playwrights for 50 per cent of the season. A collaborative production of Djanet Sears's The Adventures of a Black Girl in Search of God with Black Theatre Workshop and National Arts Centre received twelve Montreal English Theatre Award nominations.
In 2017, Surette was appointed Artistic Director of Touchstone Theatre, his career coming full circle.
His many awards include three Monday Magazine's M Awards for Most Outstanding production for Urinetown: The Musical, and Jessie Richardson Awards for Unless, Lilies, and The Number 14.
Source: Jim Burke. https://montrealgazette.com. 15 Sept 2016.
Profile by Gaetan Charlebois. Updated by Anne Nothof.
Last updated 2021-11-22