Black Theatre Workshop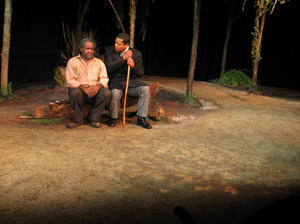 Wade in the Water by George Boyd
Director : Richard Donat
Actors (left to right): Tyrone Benskin and Nigel Shawn Williams
Photo by : Eric Mongerson
Theatre company in Montreal, Quebec, incorporated in 1972. BTW is Canada's longest standing professional Black theatre company. It began as the Trinidad and Tobago Drama Group, founded by Clarence Bayne and others, but split off to focus on the development of new works by Black Canadian artists. One of the early artistic directors, Errol Sitahal, created the first workshops for young Black actors (Black Theatre Youth Players). From 1976 to 1985, under the artistic direction of Terry Donald, BTW was affiliated with Montreal's English-language Centaur Theatre and used its theatre space. Since 2003, the company has had resident status at the Montréal Arts Interculturels (MAI) Centre.
The company's philosophy is "to encourage and assist Black and Caribbean peoples in Canada to become contributors to the construction of an emergent Canadian culture." It attempts to "diversify and democratize Canada by widening the range of performing arts and cultures." It supports and promotes the work of African Canadian directors and playwrights, and presents works by other Black companies from Canada and abroad.
Among its early ambitious productions was Derek Walcott's Dream on Monkey Mountain (1973-74 season). Clarence Bayne secured a Canada Council grant in 1976 and contributed new plays for the theatre, including The Black Experience.
Other important works include: Jean Genet's The Blacks (1976), Lorraine Hansberry's A Raisin in the Sun (1979), Ntozake Shange's For Colored Girls Who Have Considered Suicide When the Rainbow is Enuf (1984), Don't Bother Me, I Can't Cope, and original works like Here Comes the Groom and Children of Kush Arising (1995). In 1982 it performed Hector Bunyan's scathing drama, Prodigals in a Promised Land at Theatre Passe Muraille in Toronto.
It has also nurtured playwrights such as Lorena Gale and George Elroy Boyd.
In 1997, having survived difficult financial circumstances, and under the new artistic direction of Nany Delva, the company presented Counter Offence by Rahul Varma at the Monument National. The 1998-99 season included productions of Andrew Moodie's Riot , Athol Fugard's My Children! My Africa!, and Dennis Foon's New Canadian Kid.
London-trained Kate Bligh was hired as artistic director in 1998. In April 1999 the company received a $100,000 Millennium Fund Grant from the Canada Council to participate in the Anthony Sherwood production, Rockin' in Paradise. During Bligh's tenure, the company produced The Crossroads/Le Carrefour (2000), Stockholm(e) (2001) and revitalized the Young Performer's Initiative, an intensive drama training program for Black teenagers.
In April 2000 the company appointed Rachael Van Fossen as artistic director, a white woman experienced in theatre for community development. The 2001-02 season included Djanet Sears' Afrika Solo. BTW also began to produce French-language works to reflect the linguistic realities of the Black community in Montreal. Black Nova Scotia playwright, George Elroy Boyd, was writer-in-residence, and his play Wade in the Water was produced in the 2003-04 season. It was awarded a 2004 MECCA Award (Montreal English Critics' Circle Award) for Best Director, and was a runner-up for Best Production.
For the 2005-06 season BTW appointed artistic director Tyrone Benskin, and celebrated its 35th anniversary with productions of Shifting Ground/Creons un monde, a bilingual community collective creation; and the world premiere of Blacks Don't Bowl by Vadney Haynes, directed by Nigel Shawn Williams. In 2008, it presented Blood Claat by d'bi Young.anitafrika, and in 2010, it mounted Harlem Duet by Djanet Sears.
In November 2010, BTW celebrated its 40th anniversary by again producing A Raisin in the Sun (dir. Tyrone Benskin) at the Centaur Theatre.
In 2011, Quincy Armorer, actor, director, and theatre administrator, was appointed artistic director.
For the 45th anniversary, BTW produced three plays by Black women: The Adventures of a Black Girl in Search of God by Djanet Sears, Binti's Journey by Marcia Johnson, and She Said/He Said by Anne-Marie Woods.
In 2018 Black Theatre Workshop presented Angelique by Lorena Gale at the Segal Centre for Performing Arts in a production with Tableau D'Hote, with subsequent productions at Factory Theatre and the National Arts Centre in 2019.
In 2022, Dian Marie Bridge was hired as artistic director.
The company also tours to schools, and has played in Winnipeg, Edmonton, Halifax, Lagos (Nigeria), and Washington DC. In February 2006 to celebrate Black History month, it brought Afrika Solo to Quebec schools. In 2018, Black Theatre Workshop had five plays in four cities, and three shows on tour in two languages.
BTW presents a gala each year to celebrate the contributions of Martin Luther King to non-violent social change. At the gala the company presents an award for lifetime achievement. Among recipients are Oscar Peterson, Oliver Jones and Salome Bey.
In 2005 BTW was recognized by the Martin Luther King Jr. Legacy Committee of Montreal for its Historic Contribution to the Development of Black Performing Arts in Canada. It has also received a Trail Blazer Award (Black History Month Round Table Award) in recognition of its exceptional dedication to the development of the community by promoting cultural diversity, educational awareness and social consciousness.
web site: www.blacktheatreworkshop.ca
Further Reading: Clarence Bayne. "The Origins of Black Theatre in Montreal," Canadian Theatre Review 118 (Spring 2004): 34-40.
Last updated 2023-01-22