Johnson, Marcia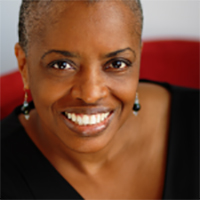 Marcia Johnson
Playwright and actor, born in Jamaica, emigrated to Canada when she was six, and currently based in Toronto Ontario. Marcia Johnson studied acting at the American Academy of Dramatic Arts in California. Her first acting gigs were in Young People's Theatre. She was introduced to writing when she worked with the Company of Sirens, which engages in collective creation, and she honed her skills in writing seminars with American playwright Natalie Goldberg in New Mexico.
Her second play, Perfect on Paper, which debunks the myth of romantic love propagated by romance novels, was produced at the Toronto Fringe Festival. In 2008, her next three plays enjoyed world premieres: Binti's Journey, an adaptation of the teen fiction novel, The Heaven Shop by Deborah Ellis about a 13-year-old girl who loses her parents to AIDS (Theatre Direct); Courting Johanna, based on a short story by Alice Munro entitled "Hateship, Friendship, Courtship, Loveship, Marriage" (Blyth Festival, dir. Kate Lynch); and Late (Obsidian Theatre, dir. Marjorie Chan), an expressionist play which portrays the turbulent emotional journey of a woman who has lost her lover.
Serving Elizabeth (a co-production with Thousand Islands Playhouse) had its world premiere in February 2020 at Western Canada Theatre Company: "Politics and pop culture collide with unexpected twists as this new play moves between 1952 Kenya—when an anti-monarchist cook challenges Princess Elizabeth in the moments before she becomes queen—and 2015 London—when a Kenyan-Canadian film student clashes with convention and custom while working on a TV series about the Royals. The tension between people and politics—opposition to imperialism, embedded prejudice and unconscious bias, and an irresistible attraction to the monarchy as presented in popular media" (WCT website). The playwright had a dual role in the production.
In 2006, Marcia Johnson acted in The Real McCoy by Andrew Moodie at Factory Theatre in Toronto and Great Canadian Theatre Company in Ottawa. More recently, she performed at the 2018 Blyth Festival in The New Canadian Curling Club and 1837: The Farmers Revolt.
Source: Andrew Moodie, "Marcia Johnson's Courtship with the Stage," Canplay 24.4 (Winter 2008):12-13.
Profile by Anne Nothof, Athabasca University
Last updated 2021-02-11