Gale, Lorena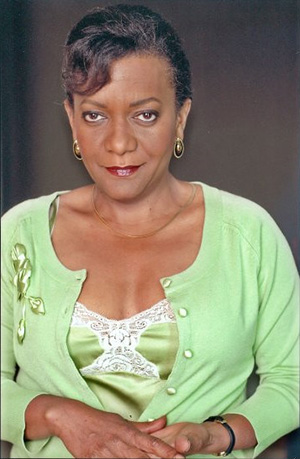 Lorena Gale
Writer, actress, and director Lorena Gale was born in Montreal in 1958, died July 21, 2009 in Vancouver British Columbia of cancer. She worked in theatres across Canada.
Her first play, Angélique, premiered at Alberta Theatre Projects' playRites Festival in 1998, and was nominated Outstanding New Play in Calgary's Betty Mitchell Awards. Its American premiere was at the Detroit Repertory Theatre. For the Off Broadway production at Manhattan Class Company Theatre it was nominated for eight Audelco Awards (New York Black Theatre Awards). In 2019 the play received its Montreal premiere at the Segal Centre for Performing Arts in a production by Black Theatre Workshop and Tableau D'Hote, with subsequent productions at Factory Theatre and the National Arts Centre. This important, historically informative and relevant play finally gets its due. Angélique is an articulation of memory in the form of political resistance. It reenacts the story of a slave imported from Madeira and bought by a Montreal businessman for his wife, but exploited as his mistress. When a fire burns through much of Montreal, she is accused of arson, hanged in 1734. At the end of the play, however, she takes the noose from the hangman and asserts her innocence, foreseeing the city "swarming with ebony" – her brothers and her sisters of the future. Angélique is published in the anthology, Testifyin' Vol. II (Playwrights Canada 2003), edited by Djanet Sears
Je me souviens was a finalist for the Governor General's Award in 2002. It received three Jessie Richard Awards nominations in 2003, and was selected by the Vancouver Sun as one of the ten best plays of 2000. In this powerful dramatic monologue, which draws on a variety of stories from her family and community, Lorena Gale reconstructs her childhood and coming of age as an African-Canadian in Montreal, colouring and diversifying the separatist "pure laine" vision of a Quebec nation. It was published by Talon in 2002.
What Colour is Black: Art, Politics and Racial Identity premiered in the Halfbred Performance Series at the Grunt Gallery in Vancouver in 1995, a multidisciplinary project featuring exhibitions, performances, and essays addressing issues of bisexuality, miscegenation, and tansgender.
Her stage performances include Normal Jean in The Coloured Museum, and Hecuba in Age of Iron at the Firehall Theatre, Vancouver, for which she received a Jesse Richardson Award.
Lorena Gale has acted in several films, including Fantastic Four, The Chronicles of Riddick, and The Exorcism of Emily Rose. She has guest starred on television programs such as The X-Files, Smallville, and Kingdom Hospital, and as Priest Elosha on the SciFi Channel television program Battlestar Galactica.
She was married to director, John Cooper.
Profile by Anne Nothof, Athabasca University
Last updated 2020-12-14