Benskin, Tyrone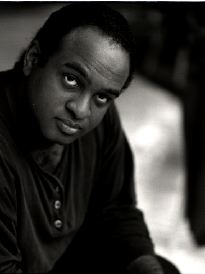 Tyrone Benskin
Actor and director, born December 29, 1958, in Bristol, Great Britain. He came to Canada in 1968 at the age of nine. He studied at John Abbott College and Concordia University, and has worked extensively in television (notably in the CBC series Riverdale), film and theatre.
Tyrone Benskin has worked at the Stratford Festival with Guy Sprung (Sharon Pollock's Fair Liberty's Call); Robin Phillips (Shakespeare's King John); Richard Monette (Shakespeare's Romeo and Juliet); Marti Maraden (Shakespeare's Love's Labour's Lost); and Michael Langham (Shakespeare's Measure for Measure), as well as at many of the major companies in Eastern Canada, including the Saidye Bronfman Centre, Centaur Theatre (Freeze 2002), Neptune Theatre, the National Arts Centre, and Theatre Passe Muraille.
He is especially well known in Montreal for his many roles with Black Theatre Workshop and for having played the lead in the lush, non-musical version of the Phantom of the Opera at the Outremont Theatre. He appeared in the Black Theatre Workshop production of My Children! My Africa! by Athol Fugard in autumn, 1999, The Caretaker by Harold Pinter, and Wade in the Water by George Elroy Boyd, among many others.
From 2005-2011, he was an outstanding artistic director of BTW, and in 2011 he was elected as a New Democratic Party MP in the Federal Government, serving until 2015.
He believes that theatre is for everybody; it is about bringing people together.
Profile by Gaetan Charlebois and Anne Nothof.
Last updated 2020-04-09