Young.anitafrika, d'bi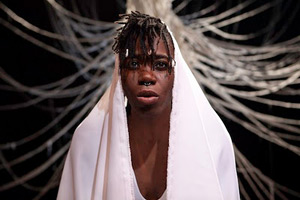 D'bi Young in word!sound!powah! Photo by Cylla von Tiedemann
Playwright, dubpoet and performer, self-named and self-styled visionary and revolutionary. "Young" is her father's surname, and "Anita" her mother's first name. "D'bi" is a contraction of "Debbie." She was born in Jamaica in 1978, studied at the Jamaican School of Drama and Campion College, and came to Toronto at the age of 16 to join her mother, a dub poet. She studied at Jarvis Collegiate, McGill University and Concordia University, without completing a degree, preferring to devote herself to writing and performing.
She launched an arts initiative called anitAFRIKA! dub theatre, with the aim of relocating storytelling within an afrikan-diasporic-herstorical context, promoting accountability and responsibility between storyteller and community. For d'bi, storytelling reminds us to listen to ourselves, to live in our bodies, and allow the body to change and move in the process of the storytelling. Storytelling is a magical process, a transference of energy. At the same time, it is a political act, a tool for social change. She has called her work "biomyth monodrama": a mythologized autobiographical story, performed by the the creator.
She is the founder and artistic director (1991-2013) of b current, and the driving force behind the rock.paper.sisahz festival.
She has written several trilogies and individual plays: selphine loathing and yagayah were co-written with Naila Belvett, followed by a working womban's story. Blood.claat graphically and imaginatively explores a young girl's coming of age in Jamaica. Mugdu Sankofa is raised by her aunt, and subjected to sexual abuse by her uncle. It premiered at Theatre Passe Muraille, and won two Dora Awards in 2006, toured across Canada, and was presented at the Magnetic North Theatre Festival in Vancouver in 2008.
Blood.claat, benu, and word!sound!powah! comprise the Sankofa Trilogy, autobiographical monologues set in Jamaica, in which Young enacts several roles. They all played in repertory at the Tarragon Theatre from October to December 2011. In benu Mugdu's daughter, Sekusu, is expecting a child, and seeks to reconnect with her mother in order overcome the painful memories of her upbringing. She finds hope in her daughter, Benu, named after the mythical Egyptian predecessor of the phoenix. In word!sound!powah! young dub poet Benu Sankofa is arrested during a violent revolution in Jamaica, after she has joined the Poets in Solidarity. She finds the strength to fight for freedom in her maternal ancestors.
Nanny: maroon warrior queen premiered at SummerWorks 2013.
In 2016 d'bi young launched her diasporic Orisha Trilogy with Ese Crossing the Middle Passage at the Storefront Theatre, playing an enslaved woman in the bowels of a slave ship, but imbued with the spirit of a goddess. The second work, She Mani Water & The Pussy Witchhunt opened at Theatre Passe Muraille, followed by Bleeders, "an Afro-futurist dub-opera set in Ontario" at The Theatre Centre for Summerworks.
In September 2017, she appeared with her music ensemble, The 333 in Lukumi: A Dub Opera at the Tarragon Theatre.
​
D'bi Young is the author of two dubpoetry collections published by Women's Press: Art on Black (2006), and Rivers and Other Blacknesses Between Us (2007).
For her role as a sexually abused teenager in Trey Anthony's hit play about the lives of Black women, 'da Kink in My Hair, she was nominated for a Dora Mavor Moore Award in 2004.
In 2006, she was awarded the George Luscombe Award for mentorship in theatre, and was named the number one theatre artist by NOW Magazine. She is the 2007 recipient of the Toronto Arts Council Emerging Artist Award. She performs her works across Canada and abroad, including Durban South Africa, and Jamaica.
Website: http://dbi333
Last updated 2017-09-06