Bushkowsky, Aaron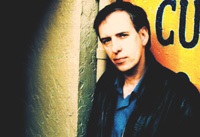 Aaron Bushkowsky
Playwright and poet Aaron Bushkowsky was born in Winnipeg, Manitoba in 1957. He studied at the University of Alberta (BA, BEd) before working as a cartoonist, and an editor in trade magazines. He began to write poetry and plays in the 1980s, and then for video and film.
His plays include: The Silly Season (Gateway Theatre, Richmond B.C. 1990, dir. Morris Ertman); Dancing Backwards (Phoenix Theatre 1992, dir. Ertman); The Big Blue Bird (Playwrights Theatre Centre> 1994, dir. Peter Eliot Weiss); Strangers Among Us (Roundhouse Theatre, Vancouver 1998, dir. Kathleen Weiss); and Dead Reckoning (Vancouver Playhouse 2002, dir. Glynis Leyshon), most of which have been produced throughout Canada.
His more recent productions are One Last Kiss (Belfry Theatre and the Vancouver Playhouse; Soulless (Rumble Productions 2004, dir. Norman Armour); Landscapes of the Dead (Solo Collective Theatre 2006); My Chernobyl (Belfy Theatre/Gateway Theatre co-production, 2008), which was nominated for nine Jessie Richardson Awards; The Project (Solo Collective 2009), a black comedy on how not to make a documentary about starvation in Africa; and Play With Monsters (Solo Collective 2012), about adult relationships with monstrous parents. His one-act play, After Jerusalem is about the unlikely passionate relationship between a visiting teacher and a security guard in Israel (Solo Collective 2011). Red Birds opened in 2018 at Solo Collective -- "a bittersweet comedy about three generations of women reconnecting and discovering secrets when a birth mother is introduced to the adopted middle-aged mother" (Solo Collective website). This was a co-production with Western Gold Theatre and directed by Scott Bellis.
Bushkowsky's plays are typically thoughtful portraits of ordinary people experiencing life's conundrums. Strangers Among Us, one of his strongest plays, is a moving portrayal of two individuals with Alzheimer's disease, who first meet while lost in the city, and reconnect in a nursing home, where they come to care for each other. The play sensitively considers the ways in which family members respond to the mental deterioration of their loved ones, and the dynamics of a place in which lives intersect, but rarely connect. Its expressionistic and non-linear style suggests a dream life. The play was commissioned by Western Gold Theatre, a group of senior actors under Artistic Director Joy Coghill. Like John Mighton's Half Life it treats a difficult subject with intelligence and sensitivity.
Aaron Bushkowsky has been nominated for Jessie Richardson Awards for Outstanding Original Play six times, winning two. He has been playwright-in-residence at Touchstone Theatre, the Playhouse, Rumble Theatre and a resident film-writer at the Canadian Film Centre in Toronto.
His short film, The Alley, which aired on CBC, won the National Screen Institute drama prize, and was nominated for six Leos (B.C Film Awards). Aaron has several screenplays in development including The Phantom Skater, a hockey story.
His book of poetry, ed and mabel go to the moon, was nominated for the Dorothy Livesay Award for Best Book of Poetry in B.C. His latest book of poems, Mars is for Poems (Oolichan Books), has been critically acclaimed. His short stories have been published across Canada. His collection of interconnected short stories, The Vanishing Man (Cormorant Books, 2005), has also been critically acclaimed. His second novel, Curtains for Roy, about a burnt-out-playwright, is also published by Cormorant (2011). A collection of his plays, The Waterhead and Other Plays (Playwrights Canada Press), features three plays produced by Solo Collective (The Big Blue Bird, The Waterhead, and Between Mothers).
Bushkowsky completed his MFA in Creative Writing at UBC in 2002, and teaches playwriting and film writing at Langara College's Studio 58 and the Vancouver Film School. He also teaches playwriting at Playwrights Theatre Centre, both to established and emerging writers. He is Artistic Director of Solo Collective Theatre.
Profile by Anne Nothof, Athabasca University
Last updated 2020-02-27