Gateway Theatre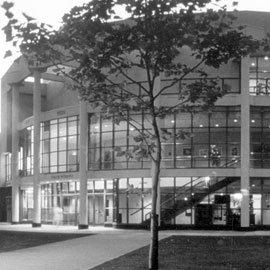 Gateway Theatre
Professional theatre, located in Richmond, on the Lower Mainland of British Columbia. The MainStage, seating 541, produces four plays annually, often featuring Canadian playwrights. Studio B, seating 100, offers two annual productions in "The New Play Series" – works by emerging Canadian writers of diverse cultures. An annual "SceneFest" features staged readings of new scripts, including The Ecstasy of George Ryga (2007) by Mark Leiren-Young, which replays the censorship encountered by George Ryga's Captives of a Faceless Drummer in terms of contemporary terrorist threats.
Gateway has developed eighteen new works, twelve of which have been on Asian-Canadian themes. It also promotes and supports the work of women from the diaspora in theatre, in particular, women directors.
MainStage productions include: Nine Dragons by Jovanni Sy (2018, dir. Craig Hall; The Forbidden Phoenix (2011) by Marty Chan; Shakespeare's Will (2006) by Vern Thiessen; The Fly Fisher's Companion(2006) by Michael Melski; Hot Flashes (co-production with Western Canada Theatre Company, 2006 ) by Paul Ledoux and John Roby; Homeward Bound (2005) by Elliot Hayes; Einstein's Gift (2005) by Vern Thiessen; Here on the Flight Path (2004) by Norm Foster; Goodnight Desdemona (Good Morning Juliet) (2002) by Ann-Marie MacDonald; Yesteryear (2002) by Joanna McClelland Glass; and Mom, Dad, I'm Living with a White Girl (2001) by Marty Chan.
Studio B productions include Fish Eyes (2007), written and performed by Anita Majumdar; The Adventures of Ali & Ali and the Axes of Evil (2006) by Marcus Youssef, Guillermo Verdecchia and Camyar Chai; Tiger of Malaya (2005) by Hiro Kanagawa; and Midlife (2003) by Eugene Stickland.
The Gateway Academy for the Performing Arts offers year-round acting, musical theatre, and technical training classes for young people. Professional and community groups may rent the Gateway to stage their own shows.
Simon Johnston was Executive and Artistic Director from 2000 to April 2012. Jovanni Sy was AD until the end of February 2019; he introduced the first Chinese-language Gateway Pacific Theatre Festival in August 2014, with three plays from Hong Kong. The current Executive Director is Camilla Tibbs; Director of Artistic Programs is Barbara Tomasic; Artistic and Community Producer is Jasmine Chen.
The Gateway Theatre complex is owned and maintained by the City of Richmond.
Website: www.gatewaytheatre.com
Last updated 2020-12-15