Majumdar, Anita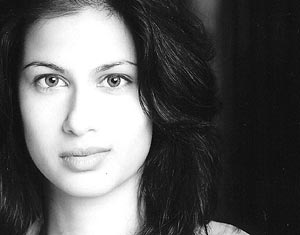 Anita Majumdar
Actor, playwright, dancer, the daughter of Hindu Bengali immigrants from India. She grew up in Port Moodie, British Columbia, and is currently based in Toronto. She has a B.A. in English, Theatre, and South Asian Languages from the University of British Columbia, and is a graduate of the National Theatre School of Canada. She is trained in and performs several different forms of Indian traditional dance: Kathak, Bharat, Natyam and Odissi.
She wrote and performed in the dance drama Fish Eyes (Theatre Passe Muraille 2004), which explores cultural conflict through the experience of an Indo-Canadian girl, attempting to reconcile the wishes of her traditional parents, and her desire for personal freedom. It has toured across Canada and abroad for eight years. Fish Eyes was published with two of her other plays by Playwrights Canada Press in 2015.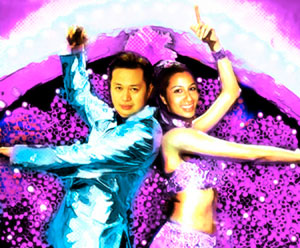 Aisha n' Ben with Anita Majumdar and Leon Aureus.
Her play, Aisha n' Ben (2009) examines aesthetic and cultural values through the relationship of an Indo-Canadian film actor, obsessed with skin whitening, and a dark-skinned Filipino-Canadian actor, who meet in Bombay while making a Bollywood film. Starring Majumdar and Leon Aureus, it was presented by South Asian Arts and Theatre Ji in collaboration with Toronto's Carlos Bulosan Theatre and the Vancouver 2010 Cultural Olympiad at the Studio Theatre in the Chan Centre. The play was reconceived and expanded as Same Same But Different, in a co-production by Alberta Theatre Projects and Theatre Passe Muraille (2014) in association with Nightswimming Theatre Company (dir. Brian Quirt). In two intersecting stories, told through music and dance, it explores prejudices about nationality and skin colour, and the pressures of family. Majumdar reprises her role as a Vancouver-born Bollywood actor, and Nicco Lorenzo Garcia plays the Filipino-Spanish leading man, from Markham, Ontario, who is obsessed with looking Indian.
Oy! Just Beat It! (Theatre Ji at Toronto Fringe, 2010) takes place in 1989 in Bombay, and also depicts the relationship between a young, ambitious Indian woman and a more pragmatic Filipino who have a lot in common, including a shared love of Michael Jackson and everything western. It also featured the singing/dancing talents of Majumdar and Aureus.
Other significant theatre roles include: Paper Series by David Yee (SummerWorks, dir. Nina Lee Aquino); Bombay Black by Anosh Irani (The Theatre Centre 2006); the epic Sanskrit legend of Shakuntala (Harbourfront, dir. James Roy); Rice Boy by Sunil Kuruvilla (Stratford Festival, dir. Guillermo Verdecchia); Ai & Ali and the Deportation Hearings by Verdecchia, Marcus Youssef and Camyar Chai (Neworld Theatre 2010); and Mules by Beth Graham and Daniela Vlaskalic ( Theatrefront in association with Hit & Myth, dir. Vikki Anderson, 2019).
She has also acted in television and film, including Deepa Mehta's Midnight's Children (2012). For her role in the CBC television film Murder Unveiled, she received the Best Actress award at the 2005 Asian Festival of First Films in Singapore. The film depicts the murder of a young Indo-Canadian woman following her marriage to a low caste Indian rickshaw driver, against the wishes of her family, who have arranged a more traditional union. Her one-woman play The Misfit (PuSh International Performing Arts Festival, 2008) is based on this film.
Majumdar was a member of the 2005 Tarragon Theatre Playwrights Unit, and is Playwright-in-Residence at Nightswimming Theatre Company.
She has received a Dora Mavor Moore Award for Outstanding Choreography/Music for The Misfit, and for Fish Eyes.
In April 2013, she was named "protégé" and paired with mentor John Murrell in the Governor General's Performing Arts Awards Mentorship Program.
Profile by Anne Nothof, Athabasca University
Last updated 2021-04-12