Irani, Anosh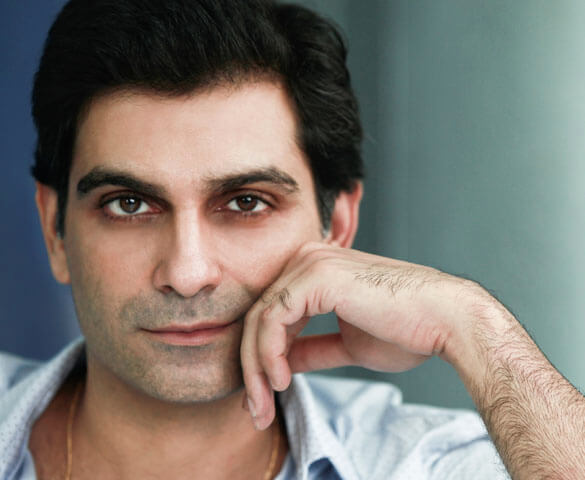 Anosh Irani
Playwright and novelist, born in Mumbai, India in 1974 and grew up near the Red Light district, which features prominently in his works. Anosh Irani emigrated to Canada in 1998 to study creative writing at the University of British Columbia, and currently resides in Vancouver. His first play, The Matka King, premiered at the Arts Club Theatre in 2003. Bombay Black was commissioned by Nightswimming Theatre Company in Toronto, and produced in 2006 by Cahoots Theatre Projects (dir Peter Hinton). It toured to Vancouver, then returned to the Mississauga Living Arts Centre in 2008. It was the winner of four Dora Mavor Moore Awards, including Outstanding New Play.
Bombay Black is set in an apartment in contemporary Mumbai, and grounded in Indian tradition and culture. It provides an effective performance vehicle for the accomplished dancer/actor/playwright Anita Majumdar, who plays a dancer forced by her embittered mother to perform for men for money. One of these men is from her own village, blinded during a marriage ceremony to her when she was a child. Both find a degree of freedom in their reunion. The Matka King and Bombay Black are both published by Playwrights Canada Press in Bombay Plays (2007), which was nominated for a 2007 Governor Generalís Award.
Sanjay Talwar and Anita Majumdar in Bombay Black.
Photo by John Lauener.
My Granny the Goldfish, commissioned by Canadian Stage, and read at the Factory Theatreís Cross Currents new play festival, premiered at the Arts Centre in 2010. In March 2012 it opened at Factory Theatre. When Nico, a young Indian student in Vancouver, is hospitalized, his grandmother comes from Mumbai to cure him with the help of a whiskey bottle, and in the process brings him to a reconciliation with his parents.
The Men in White opened at the Arts Club in March 2017 (dir. Rachel Ditor). Set in a cricket locker room in Vancouver, and a chicken slaughter house in Bombay, it compares the very different, yet similar lives of two brothers: Anosh works illegally in a restaurant kitchen; Hasan chops up chickens, and yearns to join his brother in Canada, where he can also pursue his love of cricket. Both encounter prejudices and social limitations. The play was published by House of Anansi, and nominated for a Governor Generalís Award in 2018.
Buffoon premiered at Tarragon Theatre in the 2019/20 season (dir. Richard Rose). This one-man show is set in the mind of a circus clown, ďwho takes us on a history of folly, mistakes, accidents and pratfalls" (Tarragon website). It won a Dora Mavor Moore Award for best new play in 2020.
Anosh Iraniís novels are The Cripple and His Talismans (Raincoast 2004), The Song of Kahunsha (Doubleday 2006), Dahanu Road (2010), and The Parcel (Penguin 2016), about a Hijra's life of prostitution, which was short-listed for both the Governor-General's Literary Award and the Rogers Writers' Trust Fiction Prize.
Irani cites Morris Panych and Daniel MacIvor as Canadian playwrights whose works have inspired his own plays (Public reading, Strathcona Country Library, 20 Oct 17). He considers playwrighting "the most dangerous thing you can do," since so much depends on collaboration and the right director. A play is "a living, breathing thing" that changes with each production.
Website: www.anoshirani.com
Profile by Anne Nothof, Athabasca University
Last updated 2020-07-01