Neworld Theatre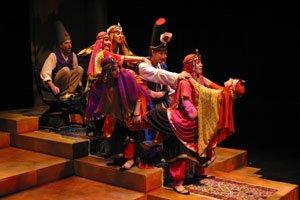 Asylum of the Universe by Camyar Chai
Professional, theatre company, incorporated in 1994, and based in Vancouver British Columbia, which creates, develops, produces and tours new plays. It was founded by Camyar Chai with Mara Coward and Tom Scholte. Marcus Youssef was Artistic Director for fifteen years. Current AD is Chelsea Haberlin.
Neworld also produces a variety of other events, including cabaret nights, readings of plays and poetry, and public lectures and interviews. It works with community groups, pairing professional artists with non-professionals from different communities to create short plays and events; e.g., in 2008 Neworld worked with "No One is Illegal" (a migrant rights activist collective), and in 2009 with "Leave Out ViolencE (LOVE) BC" and "Rough House Productions" to create multi-media shows with at-risk youth from inner-city Vancouver.
Neworld productions are highly politically engaged, focusing on multicultural issues, and reflecting Vancouver's and Canada's diversity through a wide range of genres and techniques. First productions were primarily folk-style adaptations of classical Iranian texts and/or myths, reflecting both Camyar Chai's cultural background and the sizeable population of Persian Canadians in the Lower Mainland of Vancouver. These include Love, Quest, and Evening in a Strange Land. With Devil Box Cabaret (1999), based on the play The Four Boxes by Iranian writer Bahram Beyzaee, Neworld experimented with a more hybridized performance style and site specific location. From 1999 to 2002 the company produced the Leaky Heaven Circus as a millennium project, which culminated in the formation of a new company, The Leaky Heaven Performance Society. Other productions and co-productions include: Asylum of the Universe (2003) by Camyar Chai (dir Glynis Leyshon; Tideline by Wajdi Mouawad, (trans. Shelley Tepperman, co-dir. Camyar Chai and Katrina Dunn). In 2009, it produced Are We There Yet by Jane Heather (dir. Marcus Youssef), which toured throughout British Columbia.
Its 2010 season included Ali & Ali: The Deportation Hearings (April 2010) by Camyar Chai, Guillermo Verdecchia and Marcus Youssef. The Agrabanian refugees from The Adventures of Ali & Ali and the Axes of Evil (2004) return in even worse shape to confront the economic meltdown and the swine flu. With Caravan Farm Theatre, Electric Company Theatre, November Theatre, Pound of Flesh Theatre, Theatre Melee and Theatre Replacement, Neworld created Everyone - a modern morality play in 7 acts, staged outdoors on six horse-drawn wagons (2010).
In 2017, Neworld presented King Arthur's Night, commissioned by the Luminato Festival, and written by Niall McNeil and Marcus Youssef, who also acted the roles of King Arthur and Merlin. Veda Hille composed the music, and James Long, AD of Theatre Replacement, directed. The production featured a choir of twenty, a small band, and an integrated cast of professional actors and community actors from Down Syndrome Research Foundation in Burnaby BC. The role of King Arthur was developed through an exploration of McNeil's memories living with Down Syndrome, and through improvisation. Access techniques included line feeding and measured pacing.
Neworld's shows have been presented by major festivals including the Magnetic North Theatre Festival, and PuSh International Performing Arts Festival, and have toured locally and to "On The Boards" in Seattle, WA, and the 2008 International Festival of Authors, Brno, Czech Republic.
With Boca del Lupo, Electric Company Theatre, and Rumble Theatre it founded Progress Lab 1422, a shared administrative and rehearsal space in East Vancouver. It regularly participates in the annual "Hive" event, in which twelve innovative theatre companies deliver twelve different performances in site-specific locations.
Neworld Theatre has received the Alcan Performing Arts Award, the Vancouver Sun Innovation Award, the Canada Council Theatre for Young Audiences Award, the Seattle Times Footlight Award, and 18 Jessie Richardson Awards.
Website: www.neworldtheatre.com
Last updated 2020-10-26