Coghill, Joy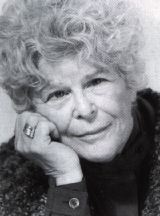 Joy Coghill
Actor/director/playwright/teacher born in Findlater, Saskatchewan in 1926, died January 20, 2017 in Vancouver British Columbia. Joy Coghill was instrumental in the founding of a distinctive Canadian theatre. She graduated from the University of British Columbia with a BA in 1949, and from the Art Institute of Chicago in 1951 with an MFA.
From 1951 to 1953, she was co-producer at Vancouver's Everyman Theatre with Sydney Risk. She co-founded (with Myra Benson) the first professional children's theatre in the country, Vancouver's Holiday Theatre (1953), and was Artistic Director until 1966.
During her tenure as Artistic Director of Vancouver Playhouse, she presented George Ryga's controversial plays, The Ecstasy of Rita Joe, and commissioned Grass and Wild Strawberries. She also initiated the Playhouse's Stage 2 for new Canadian works, which included The Visitor by Betty Lambert.
From 1970 to 1973, she was head of the English section of the National Theatre School of Canada.
Coghill acted or directed in many of the country's major venues including Globe Theatre; Muskoka Summer Theatre; Frederic Wood Theatre (Vancouver); Saidye Bronfman Centre; Factory Theatre; Theatre Plus (title role of Forever Yours, Marie-Lou by Michel Tremblay, 1974), Grand Theatre, London; Alberta Theatre Projects (Sarah Bernhardt in Memoir by John Murrell, 1981); Tarragon Theatre (Albertine in Albertine in Five Times by Tremblay); and National Arts Centre (Edna in Jennie's Story by Betty Lambert, 1986).
In 1987, she played the role of an aging, disabled actor seeking the spirit of Emily Carr in her own play, Song of This Place (Vancouver East Cultural Centre), remounted in 2004 at the Frederic Wood Theatre (published by Playwrights Canada Press 2003). In March 2001, she appeared in Wit at Canadian Stage (dir. Glynis Leyshon).
Her range extended from the modern classics (The Seagull, The Crucible) to the Canadian repertory (Michael Cook's Head, Guts and Sound Bone Dance). Her performances were marked by a vivacious and inquisitive spirit.
She also performed frequently in film, television and on radio.
From 1994 to 1999 she ran a company for older actors in Vancouver, called Western Gold, for which she devised The Alzheimer Project. The company also produced A Midsummer Night's Dream with actors all over the age of 60, the subject of a documentary by the CBC entitled The Courage to Dream.
She was the recipient of numerous honours, including two honorary degrees, four Jessie Richardson Awards, and a Herbert Whittaker Award for Distinguished Contribution to Canadian Theatre from the Canadian Theatre Critics Association in 1996. She was a member of the Order of Canada, and in 2002 she received a Governor Generalís Award in Performing Arts.
In her last years, she lived in the Performing Arts Lodge, Vancouver, which she founded with Jane Heyman as a residence for artists. Since 1955, she was married to Jack Thorne.
Website: www.joycoghill.com
Source: Malcolm Page. Oxford Companion to Canadian Theatre, Eds Eugene Benson and L.W. Conolly. Toronto: Oxford UP, 1989.
Profile by Anne Nothof, Athabasca University
Last updated 2021-05-05