Page, Malcolm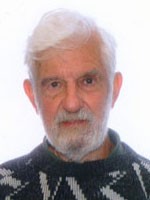 Malcolm Page
Critic, editor, professor and theatre historian, born in York, England, in l935. He obtained his BA in English at Cambridge, coming to Canada in l963 for an MA at McMaster, and subsequently completed a Ph.D. at the Riverside campus of the University of California. In addition to writing for the Canadian Theatre Review and other journals, Page has written on Vancouver, British Columbia, theatre for the British monthly Plays International since 1988.
His books include John Arden (l984), Richard II (l987) and nine compilations on contemporary British playwrights for Methuen's Writers on File series. Page was a founding member of the Association for Canadian Theatre Research in 1976, serving as President l98l-83, and also was a Board member of Tamahnous Theatre for several years.
While in Britain, he saw the first stagings of Look Back in Anger, The Birthday Party, The Caretaker, Roots, Serjeant Musgrave's Dance, A Taste of Honey, The Hostage, and The Royal Hunt of the Sun - plays which define the British dramatic renaissance.
Moving to Vancouver in l966, he saw the first production of The Ecstasy of Rita Joe, and new plays by Eric Nicol, James Clavell, Betty Lambert, Paul St. Pierre and others; the experimental work of John Juliani's Savage God company, the first shows from Tamahnous and the New Play Centre (now Playwrights Theatre Centre), and the mass of activity associated with government LIP and OFY work creation grants in l972-74.
Having been a witness to the upsurge in professional theatre in British Columbia, Page is writing a book on theatre in Vancouver since l963 when the Vancouver Playhouse was founded.
He taught in the English Department of Simon Fraser University in Burnaby, B.C. from 1966 until retiring as a Professor Emeritus in 2000. Since his retirement, he has taught for Continuing Studies at both SFU and UBC.
Last updated 2021-07-20