Tamahnous Theatre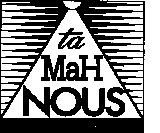 Theatre company in Vancouver, British Columbia, founded in 1971 by John Gray that specialized in experimental theatre, particularly collective creation. Following the theatrical principles of Polish director Jerzy Grotowsky, Tamahnous (a Chilcotin work for magic), experimented with form and focused on inner experience realized through visual images. By 1981, Tamahnous had produced 38 plays, 21 of which were original. The first shows were performed in the Vancouver Arts Centre. When Larry Lillo succeeded John Gray in 1974, the company relocated to the Vancouver East Cultural Centre.
Early works provided startling interpretations of the "classics," including a production of Dracula II (1971) using the shock tactics of Antonin Artaud's Theatre of Cruelty; a politicized version of The Bacchae, which included scenes of total nudity; and a graphically violent adaptation of Medea. More palatable original creations followed: Salty Tears on a Hangnail Face (1974) with text by Jeremy Long and music by John Gray, a nostalgic response to the demise of hippy culture; The Shaman's Cure (1975), which used ritual and improvisation to explore contemporary society in a tribal context; Vertical Dreams (1979), which performed the fantasies and memories of the actors as therapy; Foolproof (1980), which blurred the lines between "normalcy" and madness. Among the many other works developed at the house was Billy Bishop Goes to War.
The method of collective new play development was abandoned when Morris Panych became artistic director in 1984. In 1986 Kathleen Weiss became artistic director and again pursued the experimental mandate of the theatre, including a production of The Haunted House Hamlet by Peter Eliot Weiss, and Faust (an alternative opera).
Weiss was succeeded by Terri Snelgrove and then Brenda Leadley. After a number of critical and financial failures, the company closed in the mid-90s. Tamahnous Archives are housed at Simon Fraser University Library, Burnaby.
Further reading: Stephen E Miller. "Dancing with Nijinsky," in Jeremy Long, The Final Performance of Vaslav Nijinsky. Vancouver: Tamahnous, 1998, pp. 86-97; Renata Usmiani. "Western Magic: Tamahnous Theatre and Savage God." Theatre in British Columbia: Critical Perspectives on Canadian Theatre in English Vol Six. Ed. Ginny Ratsoy. Toronto: Playwrights Canada P, 2006.
Profile by Anne Nothof. Additional information by Malcolm Page.
Last updated 2011-07-29