Kerr, Kevin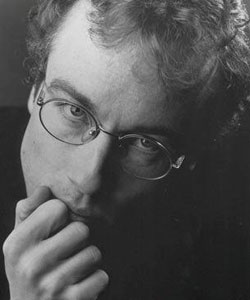 Kevin Kerr
Playwright, actor, director, Kevin Kerr was born in Vancouver and grew up in Kamloops British Columbia. He also spent time as a child in Saskatchewan, where his mother's family lives. He studied theatre at the University of British Columbia and at Studio 58, Langara College, Vancouver.
He is a founding member and artistic associate of the Electric Company Theatre, a collective company with which he has co-written several plays including Brilliant!: The Blinding Enlightenment of Nikola Tesla (1998, 2003) , The Wake (1999), The Score (2000), Dona Flor and Her Two Husbands (2001); Flop (2002); The Fall (2003); Studies in Motion: The Hauntings of Eadweard Muybridge (2009); and Tear the Curtain (2010).
In 2002 he received the Governor General's Award as a playwright for Unity (1918). It portrays the devastating effects of the Spanish Flu epidemic of 1918 on the Saskatchewan town of Unity, and explores what happens when fear takes hold of a community. When the town is quarantined, the citizens begin to turn on one another, and attempt to find a scapegoat. The title of the play and the name of the town take on an ironic tone as the flu takes more lives, and people become isolated by panic and paranoia. Unity (1918) was developed while Kerr was playwright-in-residence at Touchstone Theatre in Vancouver during its 1999/2000 season, and premiered at Touchstone in 2001 at the Vancouver East Cultural Centre. It has since played at the Great Canadian Theatre Company (2003), Prairie Theatre Exchange (Manitoba Theatre Workshop) (2004), Theatre Passe Muraille , and Regina Little Theatre (2005). It is published by Talonbooks.
Brilliant! The Blinding Enlightenment of Nikola Tesla was first produced at the Vancouver Fringe Festival in 1996. In an expanded form it played at the Roundhouse Performance Space in 1998; High Performance Rodeo, Calgary, 1999; Firehall Arts Centre, Vancouver, 2003; C Venues, Edinburgh, Scotland, 2003; Western Canada Theatre Company , Kamloops, 2003; and Magnetic North Theatre Festival, Edmonton, 2004. It is published by Brindle & Glass (Edmonton) in 2004. The play explores the human impulse for creation, and the isolation of the inventive mind. Tesla's alternating current induction motor has been cited as one of the world's greatest discoveries. He also pioneered the fluorescent light, the laser beam, wireless communication, remote control, robots and vertical take-off aircraft. Kerr and the Electric Company (including Kim Collier, David Hudgins and Jonathon Young) won several Jessie Richardson Awards for the 1998 Vancouver production of Brilliant, including Best Production, and Best Original Script.
Studies in Motion is an extraordinary choreographic display of creative genius through physicality, movement, and light. Eadweard Muybridge's experiments in capturing movement on film are enacted by nude models, in a kaleidoscope of light. Muybridge's melodramatic involvement with obsessive love and murder provides an intriguing narrative frame.
In 2007, Kevin Kerr created Skydive for Realwheels, the story of two brothers who recall childhood experiences and adult phobias while freefalling from a plane. One is physically disabled but mentally healthy, the other physically abled but emotionally crippled. The play "weaves together the imagery and images of falling (with just the right dose of some well-chosen '80s classic rock for a soundtrack) to take us on a hilarious and wildly clever ride through shared memory and the crazy world of dreams" (Bob Clark, Calgary Herald 18 Oct 2008). Directed by Roy Surette and Stephen Drover, it played in six theatres across the country, including Arts Club Theatre, Belfy Theatre, Theatre Calgary, Centaur Theatre , and the National Arts Centre during Magnetic North Theatre Festival. Skydive received three Jessie Richardson Awards -- for best direction, sound design, and production.
Kevin Kerr's play for young people, an adaptation of Pierre Berton's children's classic Secret World of Og, premiered in Vancouver at Carousel Theatre in 2009.
From 2007-10, he was playwright-in-residence in the University of Alberta Drama Department. With the BFA graduating class and Realwheels, he devised Spine (dir. Bob Frazer), which premiered in February 2010, and then relocated to the Cultural Olympiad in Vancouver. A complex metatheatrical and multimedia work, it questions the nature of personal identity through the attempts of an unemployed, paraplegic man (James Sanders) to create a computerized alternative world. His avator, a young woman, intersects with the efforts of a theatre group called the Precursors to create a work which also imagines a virtual reality in order to re-engage one of their injured members. Spine questions "our rapidly changing understanding of reality. In our contemporary, mediated, and increasingly virtually oriented culture, how do we know what is real?" (Kevin Kerr/Bob Frazer, Program, U. of A. Studio Theatre).
Tear the Curtain!, a hybrid film/theatre production, written by Kerr with Jonathon Young (Arts Club Theatre 2010, dir. Kim Collier) conducts a metaphysical investigation of illusion and reality using a B-movie scenario envisaged by a theatre critic in which two mobsters wage war over the original site of the Stanley Industrial Alliance Stage in Vancouver. It both confounded and amazed critics with its imaginative double vision, metaphoric language, and intricate plot.
In 2011, Kerr returned to Vancouver to assume the position of artistic director of the Electric Company. In 2012, he joined the Department of Writing at the University of Victoria as an Assistant Professor. He lives in Victoria with his wife, Marita Dachsel and three children.
Profile by Anne Nothof, Athabasca University
Last updated 2020-07-17